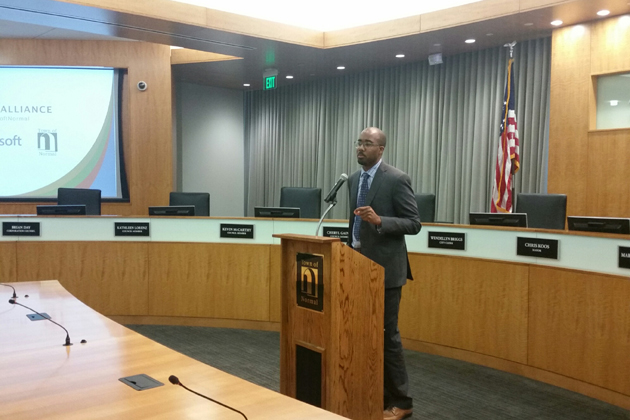 By Adam Studzinski
NORMAL – The Town of Normal on Tuesday announced a digital alliance with Microsoft.
Microsoft Public Affairs and Citizenship Director Raamel Mitchell said the partnership will primarily do three things: aid workforce development, support STEM education, and promote entrepreneurship.
"We need to ensure that we have a robust workforce that understands the skills needed to not just survive, but thrive, in today's economy," he said.
Mayor Chris Koos said the local workforce has been challenged in recent years.
"We have people re-entering the workforce and new people coming into the workforce. And the skills that those people need are changing," said Koos. "Those manufacturing jobs, where somebody's running a punch press or putting a tire on a car, those jobs are disappearing.
"But there are new jobs that are exciting, but they require skills."
Part of the partnership means ensuring residents are aware of, and have access to, Microsoft's digital literacy curriculum.
McLean County Chamber of Commerce CEO Charlie Moore called the partnership "amazing."
"This new alliance is a brilliant example of how our public and private sectors can work together to move our community forward by providing access to education and the digital literacy required from today's workforce," Moore said.
The alliance will last 24 months. Koos explained the deal had been in the works for nearly two years.
Adam Studzinski can be reached at adam.studzinski@cumulus.com.