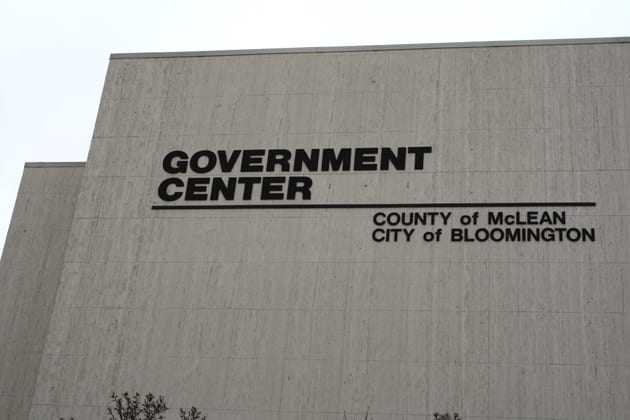 By 25 News
BLOOMINGTON – A split McLean County board will also have split leadership.
Board member John McIntyre will retain his seat as chairman, a position he's held since 2016. Joining him as Vice-Chair will be Democratic member Elizabeth Johnston, who has sat on the board since 2016. Both represent District 5, covering the northern area of Bloomington-Normal.
The board has previously been controlled by Republicans, however, they've been losing ground in the board in recent years. All 20 members were sworn in the right before the chair and vice chair were officially chosen. Neither McIntyre nor Johnston faced any competition or objections to their leadership positions. Both were elected on unanimous votes, 19-0. One council member was not present.
Chairmanship of the other county committees was split evenly between board Democrats and Republicans. Previously there were only five committees, but the board has split Land Use and Transportation into separate committees. Creating a land use committee faced some opposition from Dist. 2 Member Jim Soeldner, who called it a potentially unnecessary committee and instead called for a more worthwhile subject committee, like Human Resources to be developed.
McIntyre sees Land Use as becoming more and more important as renewable sources of energy are built and developed. The measure ultimately passed with only one no vote.
The plan to share committee chairs is a part of a compromise both McIntyre and Johnston hope will inspire civility and bipartisanship in a nationally divided time.
"We must remind ourselves that we are people first, who represent all the people from the county from both parties," McIntyre said at the end of Monday morning's meeting. "The question is, will we be able to meet, debate and vote with civility?"
Johnston believes the political division and fights that party politics is known for can be avoided on a local, county level. The issues in front of the board aren't often partisan, but rather focused on improving the community each board member lives in.
"Philosophically we have some differences," Johnston said, "but everybody walking in recognizes they're there to work on behalf of their constituents, on behalf of the residents in McLean County."
They will convene next on December 15.