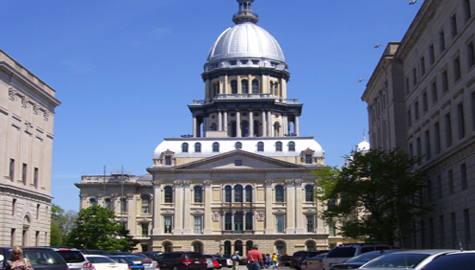 By Dave Dahl
SPRINGFIELD – The 101st General Assembly inaugurations had contrasting tones.
The new class re-elected House Speaker Mike Madigan, who looked back at the Rauner years: "Four long years of character assassination. Four long years of personal vilification. Four long years of strident negotiating positions, also known as 'my way or the highway.'"
Also re-elected: Senate President John Cullerton, who said the world only spins forward: "The people back home have no tolerance for impasse and infighting," he said. "They want us to make Illinois better, and – together – that's exactly what we are going to do. Welcome to a new year, a new start, and a brand new Illinois."
Republicans re-elected their minority leaders, Rep. Jim Durkin (R-Western Springs) and Sen. Bill Brady (R-Bloomington).
Cullerton and Brady voted for one another for president. Cullerton zinged Brady by calling him "a super … minority leader." Democrats have a 40-19 advantage over Republicans in the Senate.
At the House ceremony, State Rep. Anne Stava-Murray (D-Naperville) fulfilled her promise by voting Present for speaker.
And retiring attorney general Lisa Madigan administered the oath of office to her dad, concluding, "Congratulations. You're speaker again."
Dave Dahl can be reached at news@wjbc.com