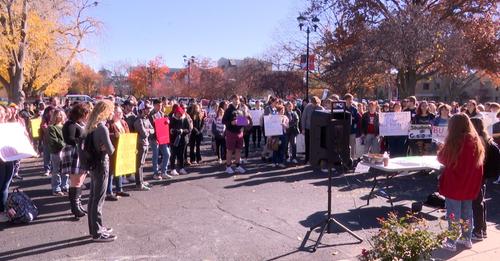 By WMBD-TV
PEORIA – Students and teachers took part in a walk out on Tuesday, following the proposed cuts to degree programs and faculty reductions at Bradley university.
More than 100 students and staff held the walk-out outside of Bradley hall.
Sarah Sweeny is a senior studying political science. She said she's been fighting the administration for nearly three months, ever since Bradley's president announced the need to make cuts.
"They notified me that they terminated my legal studies advisor, which is during my prime time of applying to law school. As a first-generation low-income student, she really was one of the only people I could rely on so that came as a shock," said Sweeny.
In an interview Monday, Bradley's president Stephen Standifird said less than four percent of students would be affected by the proposed cuts.
Senior Rachel Watson said she finds that statistic hard to believe.
"In our math department, they say we're one of the smallest departments, that's because they only counted students who are a major, no minors, no double majors. Which unfortunately are a lot of math and computer science people," said Watson.
Students will get to voice their concerns directly to President Standifird on November 27th at a student senate forum.