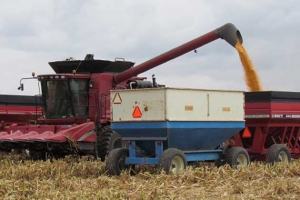 By Blake Haas
BLOOMINGTON – Harvest season is in full force in Central Illinois, and the Illinois Fire Marshall's Office is encouraging farmers to watch out for equipment and field fires.
"First and foremost, keep them (equipment) clean. I know it's hard when your out there working nonstop, and those (corn) stocks are going everywhere, you got the muffler up there, things are getting hot, and your tired. It's making sure things are clean," JC Fultz, spokesman for the Illinois Fire Marshall's office, told WJBC.
A report from the U.S. Fire Administration indicates around 20,000 fires on agriculture properties each year, resulting in over $102 million in property losses.
"Some farmers smoke. And with the dry weather, the dry air that we've had, it's very windy out there – make sure you're not smoking in the field," added Fultz. "There's all that dry vegetation around, one little spark, and now we have a major issue."
According to the National Ag Safety Database, most combine and tractor fires are caused by exhaust systems and electrical problems.
Blake Haas can be reached at [email protected].