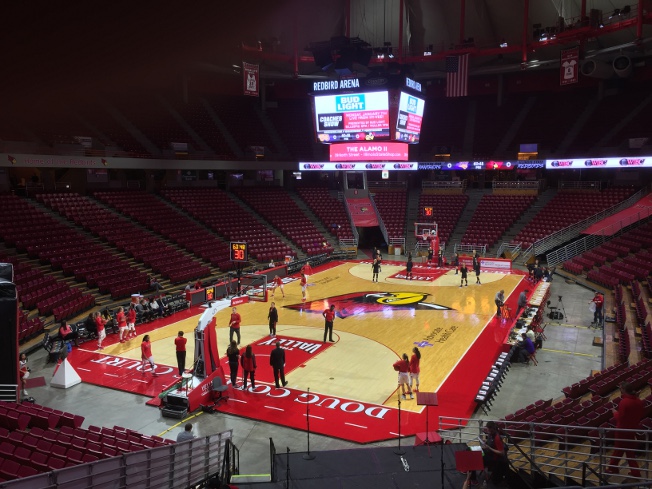 By Jake Fogal
BLOOMINGTON – Both the men's and women's basketball teams at Illinois State have dropped their non-conference schedules for the upcoming season.
Following an NCAA tournament appearance, head coach Kristen Gillespie unveiled the women's schedule for the reigning Missouri Valley Conference Champions, knowing that tougher competition better prepares her players.
"We're facing some strong opponents before conference play starts as we prepare to chase another title and NCAA Tournament appearance," Gillespie said.
The Redbirds will host Indianapolis in an exhibition game on November 1 before beginning their season on the road for the second consecutive season on November 10 at Dayton. ISU will play St. Thomas in its first home game at Redbird Arena on Nov. 15.
ISU will match up against the Big Ten's Wisconsin and Purdue again this season, facing the Badgers on Nov. 20 for a White Out game at Redbird Arena and traveling to West Lafayette, Indiana, later in the year to play the Boilermakers on Dec. 11.
"The opportunity to play two Big Ten programs and three teams who finished in the top-100 NET rankings last year will be great preparation before Valley play," Coach Gillespie said.
Following their matchup with Wisconsin, the Redbirds will flock to Las Vegas to play in the UNLV Thanksgiving Classic. The women will have four additional games in December, featuring games against St. Louis, Missouri-St. Louis, Purdue and UW-Green Bay.
On the men's side, The first game of the Ryan Pedon era falls on Nov. 7, when the Redbirds face Western Illinois. The Redbirds will then trek to Charleston, Ill. for a game against Eastern Illinois on Nov. 10.
Illinois State will then play two games, one on the road and one at home, against Northwestern State, a program that ISU has never faced in its history.
The Redbirds' next trip is to the Cayman Islands on Nov. 21, where they will face LSU. The following day, ISU will face either Akron or Western Kentucky in the second game of the Cayman Islands Classic, with the third game taking place on Wednesday, November 23.
Moving into December, the Redbirds have four non-conference games remaining, including three at Redbird Arena. Eastern Michigan and SIU-Edwardsville will travel to Normal before ISU takes on Ball State in the Indy Classic on December 17. The non-conference schedule concludes on December 19 with a game against Chicago State at Redbird Arena.
Jake Fogal can be reached at [email protected].