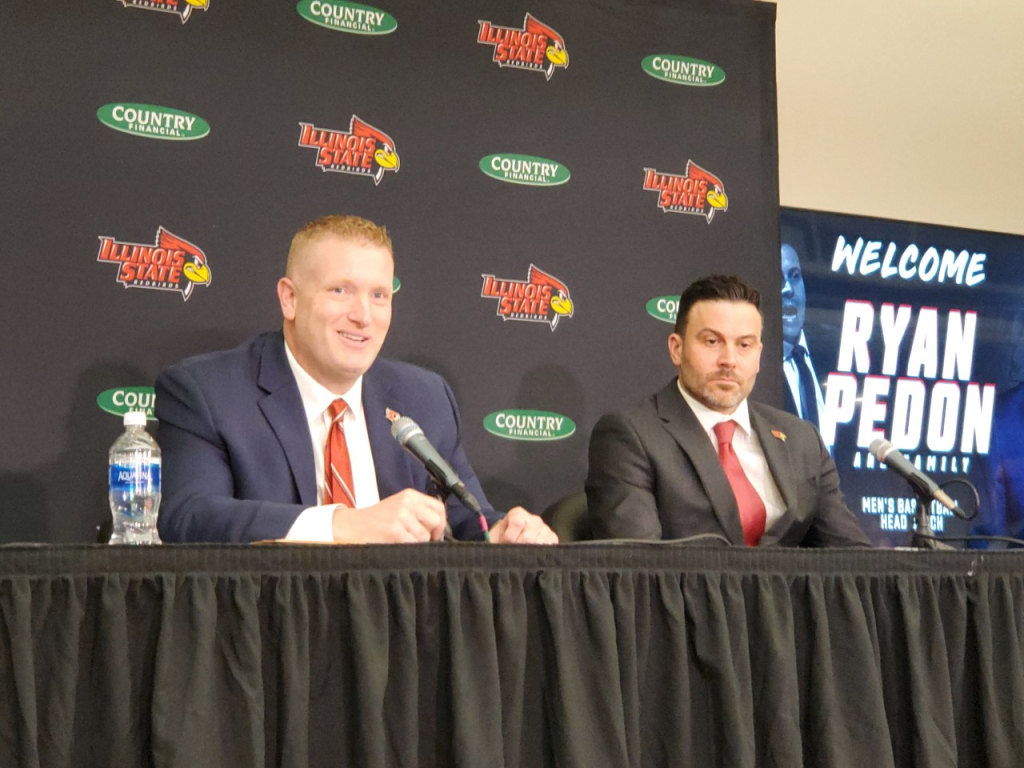 By Jake Fogal
BLOOMINGTON-Following another underwhelming 13-20 season by the Illinois State men's basketball team, the University moved swiftly to find it's next head coach.
Nearly an hour after the Redbirds loss to Northern Iowa on Friday, ISU announced that Ryan Pedon, Ohio State Buckeyes assistant, would fill the vacant head coach position for the Redbirds. Pedon was introduced as today by the University, and Illinois State Athletic Director Kyle Brennan said he had a gut-feeling hiring the 21-year coaching vet.
"Ryan and I just had a personal connection that made us both believe we could work together and accomplish amazing things at ISU. This alignment will be critical to our success," said Brennan.
"After I met him I just knew he was our coach, even though we had more people to talk to. Nothing could pull me off of him, he was just in my mind. When I met him I just had this gut-feeling that he was our guy."
Pedon is just the 20th head coach in the school's history, and comes to Illinois State as a first time head coach. On Chris Holtmann's staff, Pedon held a 106-53 record with the Buckeyes over five seasons.
The new hire has spent time as an assistant with five division one teams. Beginning with Miami (Ohio) in 2005, transitioning to Toledo in 2010. He then joined the Fighting Illini at Illinois in 2013, spending two years in Champaign, before joining current Buckeyes head coach Holtmann at Butler in 2015.
Pedon received head coaching interest throughout his tenure as an assistant coach, but did not believe any opportunities were the right fit. He said Illinois State checked all of his boxes.
"I want to be at a place that can recruit and attract the kinds of young men that I want to be build a program with. Not all institutions and basketball programs do that. This [one] does. I could not be more excited about being apart of this community," Pedon said.
In an effort to change the culture for the men's basketball program, Pedon echoed several times, "It's time to get our swagger back."
"My vision for this program is to become a consistent, standard of excellence in the Missouri Valley Conference, and in doing that become a player on the national stage once again," Pedon exclaimed.
Pedon's contract is designed for 5 year's, earning $550,000 per year. He will continue into the postseason as an assistant with the Buckeyes, while simultaneously beginning his role as the head coach of the Redbirds.
Jake Fogal can be reached at Jacob.Fogal@Cumulus.com.