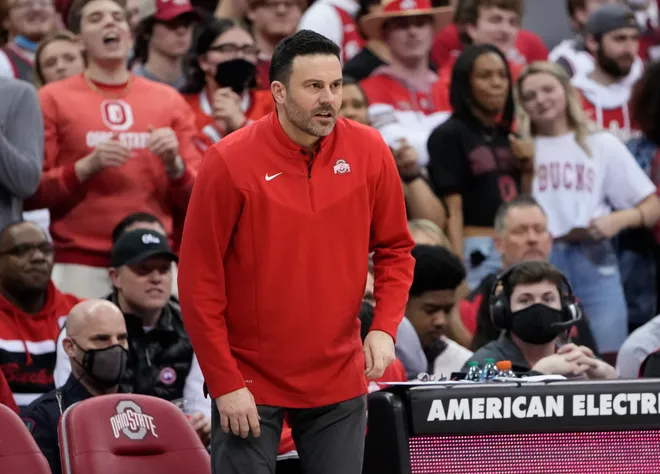 By Jake Fogal
BLOOMINGTON-Following a loss to Northern Iowa in the second round of the Missouri Valley Conference Tournament, Illinois State Athletics has confirmed that Ohio State Top Assistant Ryan Pedon will take the reigns of the men's basketball program as it's next head coach.
"I am extremely excited to be joining the Redbird family. I would like to thank President Kinzy, Kyle Brennan, and Mark Muhlhauser for this opportunity," Pedon said.
"My family and I have been committed to finding the right fit all along. Simply stated, Illinois State checks every one of our boxes. Great people, strong academics, a highly competitive environment, a proud alumni base, and a campus/community that will allow us to recruit at a high level. The tradition of Illinois State Men's Basketball is well-documented, and we will embrace this at every level. My family and I are so grateful for this opportunity and look forward to building something very special at Illinois State."
Pedon has been apart of Ohio State's coaching staff the past five season under Chris Holtmann. OSU has a record of 106-53 with an NCAA tournament berth during each of his seasons in Columbus, with two trips to the NCAA second round. 
Pedon has made stops at Miami Ohio, Toledo, Illinois, Butler and Ohio State as an assistant coach before becoming the 20th coach in Redbird history. This is Pedon's first head coaching position.
"We could not be more excited to have Ryan Pedon as the leader of our men's basketball program at Illinois State," ISU Director of Athletics Kyle Brennan said.
"We believe he is the right person to lead the men in our program and help them RISE back to the top of the Missouri Valley Conference and into the NCAA Tournament. Ryan has worked at respected programs and has been mentored by some tremendous coaches. His recruiting ties to Illinois and the Midwest will be a great asset to him moving forward, and we are excited for his vision of the future of this program."
Pedon replaces Interim Coach Brian Jones, who coached the Redbirds in seven games this season.
Illinois State finished 13-20 for the 2021-2022 season, and have been in the bottom four of the MVC over the past three seasons.
Jake Fogal can be reached at Jacob.Fogal@Cumulus.com.