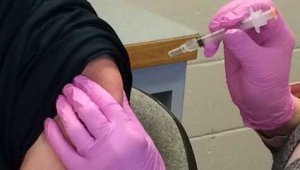 By WJBC Staff
SPRINGFIELD – The Illinois Department of Public Health (IDPH) reminds people to get their annual flu shot.
It's recommended that everyone six months and older receive the flu vaccine, and it is especially important during the COVID-19 pandemic.
"You can get sick with the flu and COVID at the same time – a double whammy," said state public health spokesperson Melany Arnold. "Your best bet, in your best protection, is to get vaccinated for each of them; get your vaccine for COVID-19 and get your vaccine for the flu."
Since the symptoms for the flu and COVID-19 are similar, and because you can get both viruses simultaneously, Arnold says it's safe to get the flu and COVID shots at the same time.
"It's been scientifically proven that you can not get the flu from a flu shot. If you've been exposed to the flu shortly before you get the flu shot, or immediately after it, before your body has a chance to build the antibodies to it, you can get the flu. But in general, you can not get the flu from the flu shot."
According to Arnold, this year's vaccine offers protection against four strains of the flu.
WJBC staff can be reached at News@WJBC.com.