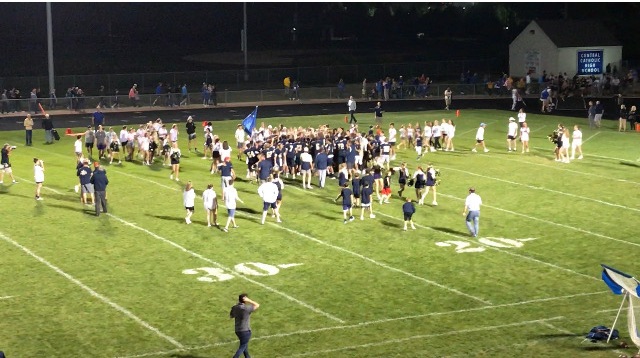 By Neil Doyle
BLOOMINGTON – Central Catholic battled back and scored in the final seconds to beat Paxton-Buckley Loda 13-12.
The Saints (3-0) had to drive late with under a 1:30. They moved the ball down the field and the final two plays were a hook and ladder and halfback option.
"It's a play we call circus, the old Boise State play, that worked, then we called a play called bubble pop," said Saints head coach Kevin Braucht. "We ran it once three years ago for a touchdown, so we knew it was there, it was just the matter of executing it."
ICYMI. Video courtesy of Dr. Bob Lee. #Wow pic.twitter.com/jjPJnkHpgy

— Central Catholic (@CCHSinBloom) September 11, 2021
The winning score was caught by junior wide receiver Rye Pirtz, who ended the night with over 50 yards receiving. Sophomore quarterback Colin Hayes helped orchestrate the final drive and ended the night with a touchdown pass and over 200 yards passing. Senior tailback Jake Slaughter caught the touchdown from Hayes in the third quarter.
PBL (2-1) jumped out to an early lead, as they got a rushing touchdown from senior Charlie Pound. The other score came from senior tailback Tyler Smith, who finished the night with over 100 yards rushing.
Across the Intercity
Normal Community (3-0) got a win on Senior Night over Peoria Richwoods (0-3) 54-13. The Wildcats of Normal West (2-1) picked up a win in their first road game at Champaign Centennial (2-1) 21-0. After an off week, Bloomington (2-1) returned to the field and beat Peoria Manual (0-3) 14-0. No game for U-High (1-2) as Springfield Lanphier (0-3) canceled due to positive COVID-19 test results.
Other games around the area:
Eureka 42 Heyworth 0
Tremont 42 LeRoy 12
Tri-Valley 35 Ridgeview 14
GCMS 7 El Paso-Gridley 0
Tolono Unity 49 IVC 21
Dee-Mack 40 Ottawa Marquette 36
Monticello 46 Olympia 22
Pontiac 20 Rantoul 14
Prairie Central 34 St. Joseph Ogden 28
Neil Doyle can be reached at neil.doyle@cumulus.com