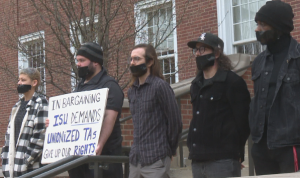 By Heart of Illinois ABC
NORMAL – The union representing graduate workers at Illinois State University brought a silent protest to the steps of the administration office on Thursday.
Graduate Workers Union members stood in solidarity, their mouths covered with tape. They claim ISU has tried to take away their right to free speech amid an ongoing pay dispute.
"I really hope that actions like this can change their mind," said union member, Isabel Samuel.
This came after the union said the university told them in contract negotiations that union workers would be subject to discipline if they encouraged or supported another union on campus to strike.
"The idea that another union on campus can go through all the legal steps and me as an individual can have an opinion and then be disciplined by the university is unacceptable," said Samuel.
An ISU spokesperson said they would not comment on specific aspects of negotiations due to the ongoing mediation.
The union said they had been negotiating their contract for 18 months, also fighting for better pay.
"All we're trying to do is get enough money for enough people that they don't need to go to the food pantry every week anymore," said Samuel.
When asked for comment, the university said they are committed to "on-going good faith negotiations."
"The ideal situation is the University comes to the bargaining table and gives us a legal agreement on the no strike clause," said Samuel.
The university also said they respect the rights of the union to protest and are awaiting a response from the union on their counterproposals.
Heart of Illinois ABC can be reached at News@WJBC.com.