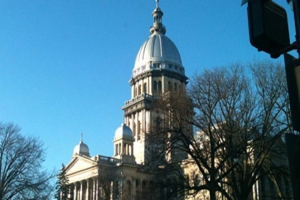 By Illinois Radio Network
SPRINGFIELD – Attempts to change ethics rules in Springfield have been slow to develop at the Illinois statehouse, but not for a lack of trying, according to an analyst who said lawmakers have filed dozens of ethics bills, but few have advanced.
Lawmakers in the House and Senate filed more than 6,300 bills since January. The Center for Illinois Politics reviewed all the bills filed this year and found 89 addressed ethics reforms of some kind.
Of the 89 ethics bills, 24 had to do with term limits, redistricting reform, elections or campaigns; 16 bills involved proposed lobbyist registration changes; 12 bills involved ethics and ethics investigations; 11 involved so-called revolving-door prohibitions that would prevent lawmakers from immediately becoming lobbyists after leaving elected office. Twenty-nine other bills addressed gambling, public contracting, House and Senate rules, economic interests and sexual harassment, according to The Center for Illinois Politics.
Center for Illinois Politics Chairwoman Susan Garrett, a former state lawmaker, said nine out of ten bills on ethics go nowhere.
"They don't make it out of the Rules Committee, or if they do they go to a committee and put in a subcommittee," she said.
That's not just the fate of the vast majority of ethics bills, there are more than 3,000 bills on other issues that stalled in the House Rules Committee alone.
"I'm really not faulting the lawmakers themselves, but it's an ingrained culture that basically says 'OK, if a lawmaker is going to file a bill to require more transparency, ultimately it's up to two or three people who have the Rules Committee to decide whether or not that bill will ever see the light of day,' " Garrett said.
Several weeks ago, statehouse Republicans demanded a special session to address ethics reforms. Gov. J.B. Pritzker said he'd rather a task force hammer out reforms.
Garrett said something needs to be done amid a number of federal corruption investigations involving state lawmakers and lobbyists.
"Springfield has been turned upside down," Garrett said. "There is definitely a need for some very serious, critical reform."
But she said the lack of substantive reforms wasn't from a lack of trying. She said rank-and-file legislators were working together to build support for various issues.
"They really are on both sides of the aisle," Garrett said. "But it's not that they have a partner in leadership allowing them to move these measures forward."
The Center for Illinois Politics found minority Republicans filed more than half of the 89 ethics reforms measures proposed at the statehouse. The four ethics bills that passed were filed by majority Democrats. Democrats hold veto-proof majorities in both legislative chambers.
Those four measures require sexual harassment training, require local government executives to file economic statements of interest, create a central database for lobbyists disclosures and contributions to politicians, and the creation of a Joint Commission on Ethics and Lobbying Reforms.
Garrett said she hopes the commission can produce substantive proposals for change.
"The last thing we want is something that is whitewashed and check a box, we did this, we did that," Garrett said. "We are hoping that the measures that have been introduced over the years which we find very legitimate by lawmakers on both sides of the aisles are finally going to be addressed."
Lawmakers return to Springfield in late January.
Illinois Radio Network can be reached at News@WJBC.com.