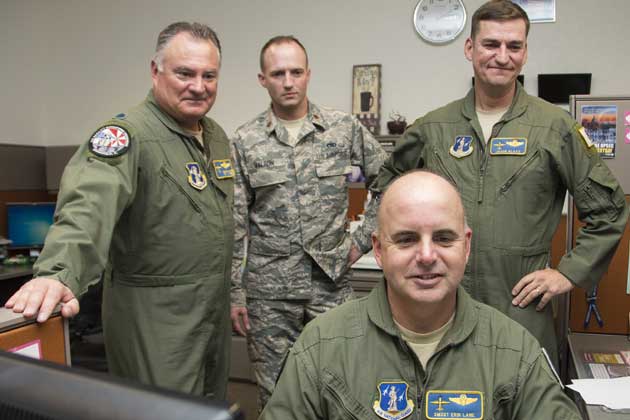 Hometown Military News for Oct. 28, 2016:
Illinois Air National Guard helps move critical disaster relief supplies after Hurricane Matthew
SPRINGFIELD – Five airmen with the 183d Air Mobility Operations Squadron returned to Springfield last week after wrapping up nearly two weeks of humanitarian assistance operations supporting Hurricane Matthew relief efforts in Haiti.
The Illinois Air National Guard members planned and executed missions from the 612th Air and Space Operations Center at Davis-Monthan Air Force Base, Ariz. The sophisticated 24-hour center is responsible for U.S. Air Force operations within U.S. Southern Command (SOUTHCOM).
At the request of the U.S. Agency for International Development, SOUTHCOM established a joint task force at Port-au-Prince to move food, water, shelter materials and medical supplies into the region.
"It was a team effort by everyone involved," said Air Control Team member Senior Master Sgt. Erik Lane. "We coordinated support for air assets from the Navy and the Air Force, as well as multiple command and control centers across the military to get personnel and supplies to Port-au-Prince International Airport."
The team obtained air clearances, conducted flight and load plan validation, planned for aeromedical evacuation scenarios, and numerous other elements that are necessary to move military aircraft.
"It's always amazing to see the coordination and synchronization required to make an operation such as this work successfully. The movement of over 250 metric tons of materials and more than 400 personnel into and out of such a constrained airfield, in such an expedited manner exemplifies the unique ability of our military," said Lt. Col. Jason Klaas, Deputy Chief of the Air Mobility Division.
This wasn't the first time the squadron has responded to the call for humanitarian assistance. Airmen were also involved in Operation Unified Response which provided relief in the aftermath of the devastating earthquake that shook Haiti in 2010.
The commander of the squadron, Col. Jim Silvasy, monitored operations from home base at Springfield Capital Airport.
"I'm proud of what our folks accomplished. We have a remarkable capability in the DOD to push critical, life-saving materials into an area within hours of a request," Silvasy said. "These airmen were part of that life-saving effort."
The 612th Air and Space Operations Center is the primary command and control facility for coalition air operations in the Caribbean, as well as Central and South America. The 183rd Air Mobility Operations Squadron trains for command and control missions with SOUTHCOM and military air operations centers around the world.
Click here to see the Hometown Military News archive.