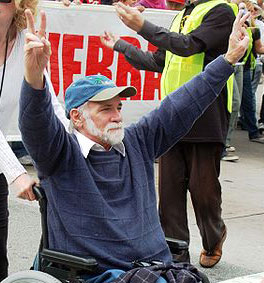 In his second tour in Vietnam, Ron Kovic was shot and seriously wounded. The U.S. Marine was paralyzed from the chest down and shuttled through multiple hospitals before landing stateside and seeing treatment at a New York Veterans Administration Hospital.
In the spinal cord injury ward of the Bronx VA Hospital, Kovic's living nightmare got worse.
"The wards were overcrowded [and] understaffed. Men cried out for help; it never came," Kovic tells Steve Fast. "There were rats on the ward."
Kovic told the story of his struggle to mentally recover from his wounding in the memoir "Born on the Fourth of July," which was adapted by Oliver Stone into a hit film. Not included in the memoir or film, however, was a protest conducted by wounded vets staged in 1974. Kovic and other patients at a California VA hospital conducted a sit in by occupying the offices of Senator Alan Cranston.
"We had nothing, really, to speak of. We had no contacts. We were in a VA hospital in the spinal cord injury ward. I found myself back on the ward. I had a bed sore," Kovic says. "We decided to call up the press, call up the Associated Press, the UPI, and tell them that we're going on a hunger strike to the death. Those were the exact words we used."
Kovic tells the story of the 1974 protest in a new book, "Hurricane Street."
Listen to the interview: Ron Kovic on The Steve Fast Show
Follow Steve Fast on Twitter @SteveFastShow