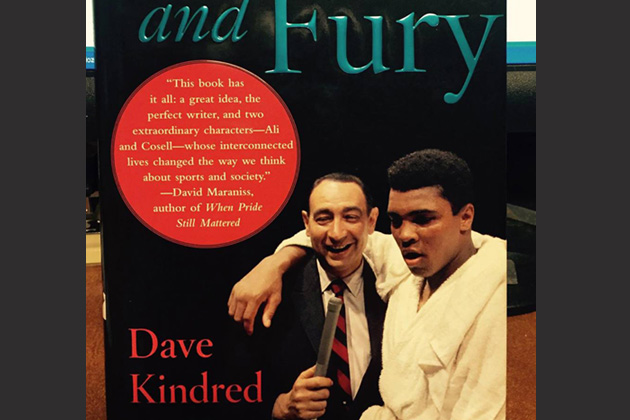 By Bryan Bloodworth
BLOOMINGTON – The last time Dave Kindred saw Muhammad Ali, it was a bittersweet moment.
Kindred, the nationally known award-winning journalist and Illinois Wesleyan graduate, went to visit Ali at his farm in Michigan to wrap up details for a book he was writing about the former heavyweight champion.
"The last time I saw him (in 2004) I helped him walk 50 feet from his office to the gym on his property," said Kindred, a native of nearby Atlanta (Ill.) "He held onto my elbow, so he wouldn't lose his balance. Then he put on a pair of light gloves and started hitting a heavy bag and he hit it hard. Pretty soon it sounded like he was 25 again. The big muscle still worked; the little muscles didn't. But for a minute, he was 25 years old again."
With the recent passing of the 74-year champ, Kindred reflected on his time with the champ, which resulted in the book 'Sound and Fury'. Kindred covered 19 of Ali's fights, including 10 of his heavyweight championship bouts.
PODCAST: Listen to complete interview here.
"I spent a lot of time with him in a lot of different situations over the years," added Kindred. "Certainly, it was a unique opportunity to be with a guy, who will be in the history books forever – not only as a great athlete, but as a historical figure who made a difference in his time."
Kindred was working at the Louisville Courier in 1966 when he met in Ali, who lived in Louisville.
"I was just a kid working on the sports desk, when a grown-up (one of his bosses) came up to me and said 'Clay (referring to Ali's name before his change of religion) is in town, go find him.' So I did and I spent a day with him.
"Quoting from Revelations, he was the alpha and the omega – the first and the last. There has never been one like him and there will never be another one like him. He was a politician; he was a poet; he was a fighter and a lover. He was everything."
Kindred said Ali was the most famous man in the world.
"If the Pope wasn't, Ali was," Kindred continued. "Even in his silence, which was the last 30 years, he still stood for courage and hope and belief in yourself. He passed that courage and hope and belief on to millions of people. That's his legacy.
"He was a unique personality. He loved people. People loved him. He wanted people around him all the time. He was the best athlete I ever saw, the best athlete anyone will ever see. He moved like a ballet dancer. He was brave in the ring. He was brave out of the ring."
Kindred doesn't believe Ali was misunderstood like many people thought, but rather stood up for his beliefs.
"I think he was pretty clear in what he believed and why he believed it," said Kindred. "We can argue whether he should have said those things and whether he should have believed those things, but we can't argue he did believe them.
"He was willing to go to jail. He was willing to go to prison for his belief that he should fight in the Viet Nam War.  A lot of men in America in the 60s had their reasons for not wanting to fight in that war. But only he stood the risk of going to prison for five years and paying a $100,000 fine.
"He never backed off that. That made him reviled at that time and makes him reverend now because now most of America sees that was a bad war and we shouldn't have been there. Ali, once on the wrong side of history, turns out to be on the right side of history on that."
Kindred said Ali also wasn't afraid to voice his opinion.
"Whatever good things you want to say about Ali, you can," he added. "Certainly, there's a lot to pick at him. There are a lot of reasons through the 1960s that people in America hated him. He refused the draft. Everything you're not supposed to talk about, he talked about all the time, so a whole lot of people didn't like him."
Kindred also watched all the blows to the head Ali took during his career, which eventually led to brain damage and then the Parkinson's disease that crippled him over the last 30 years.
"If I could abolish boxing I would," said Kindred. "Certainly, boxing gave us Muhammad Ali at his best, but if I could abolish it I would. My feeling on that comes directly from seeing what it did to Ali.
"I don't watch fights anymore. I saw what it did to Ali, the most beautiful man I've ever been around not only in the sense of athletics. To see him where he could barely walk and eventually couldn't stand up was enough for me."
  Bryan Bloodworth can be reached at lefty@wjbc.com