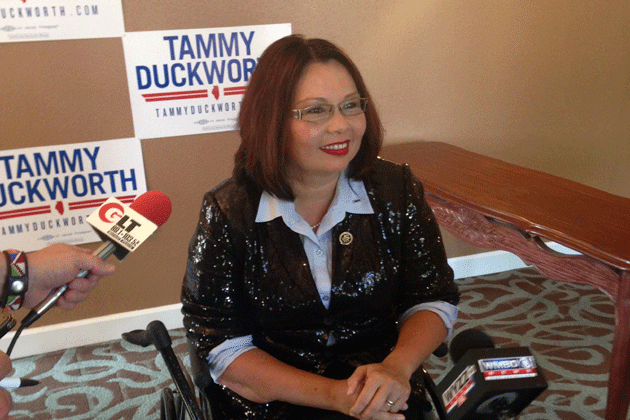 By Joe Ragusa
BLOOMINGTON – Democratic candidate for Senate Tammy Duckworth stopped in Bloomington Sunday to meet with the county's Democratic Party leaders.
She said her campaign is going to focus on fighting for the working class.
"When I was in high school, I was on food stamps. Had it not been for good public schools, had it not been for school lunch and school breakfast programs, there were days where I probably wouldn't have had dinner," Duckworth said.
The current congresswoman is still reading into the proposed nuclear deal with Iran, but that didn't stop her from attacking her opponent in the 2016 Senate race, incumbent Mark Kirk (R-Ill.), for coming out against the deal.
Kirk has said the proposal paves the way for Iran to get nuclear weapons. He has filed legislation to renew sanctions on Iran that he helped author a few years ago.
Duckworth said Kirk is rushing to judgment on the proposal.
"He seems to have made up his mind before the deal was even made public so people could read the deal," Duckworth said. "I'm going to do my homework. I'm not going to let anyone else tell me how to vote."
Duckworth just came back from visiting Israel and she said the country's voice in the Middle East is important.
"(Israel is) truly our greatest ally. They're the only democracy in the Middle East and we have to stand firm with them," Duckworth said. "I want to make sure we live up to our part of that relationship."
Congress votes on the deal next month.
Joe Ragusa can be reached at joe.ragusa@cumulus.com.