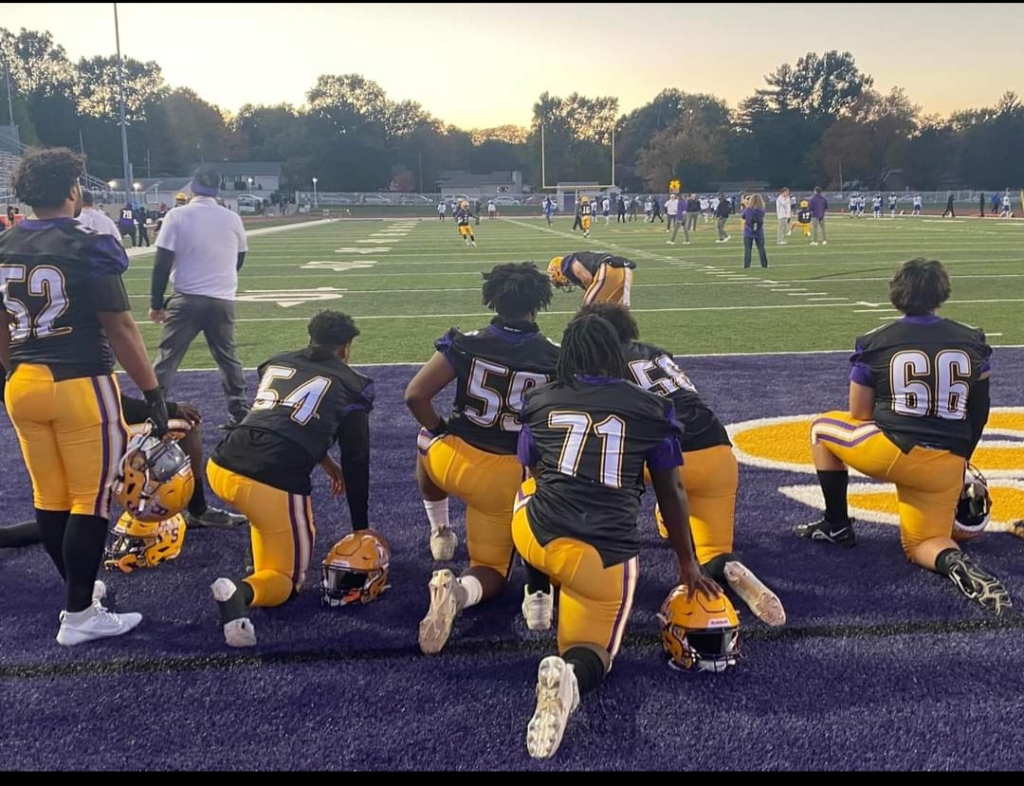 By Jake Fogal
BLOOMINGTON – A field goal was the first score of the game put on the board early in the first quarter by the Purple Raiders, but what came to follow left fans packing up and heading for the exits early as Decatur MacArthur put a beating on Bloomington 54-10.
Bloomington challenged the Generals in Week 9 of the regular season, both sitting one win shy of clinching a playoff berth entering the contest. The Purple Raiders came in with a defensive mindset, but couldn't slow down MacArthur's rushing attack led by freshman Myson Johnson-Cook, who totaled 15 carries for 292 yards and three touchdowns.
Purple Raiders Head Coach Scott Godfrey didn't hide his disappointment following the game.
"Hats off to MacArthur, but a lot of that is on us. Our intensity, lack of toughness and lack of ability to compete. This is an embarrassing loss, and we better figure it out before next week," Godfrey said.
Although the Purple Raiders aren't clinched into the postseason at 5-4, the tiebreaker works in BHS's favor. Opponent wins for the season is what will decide the fate of all team's tied at playoff eligible, and the Purple Raiders sit amongst the Top 5 with 50 opponent wins in 2023.
"You are what you achieved during the regular season. We had an opportunity to be a six or seven win team and did not do it. Now we have our backs are against the wall," said Godfrey.
Quarterback Cameron France totaled two touchdowns in the win for the Generals, connecting with wide receiver Sam Owens and scrambling on a short run early in the second quarter. Sam Owens added an interception returned for a touchdown. Nahjir Woods returned a late kick for six points and pulled off a 33-yard scamper for a touchdown as well for the Generals.
The lone Bloomington touchdown came on a rush from Michael Kimmell in the 4th quarter. Kimmell finished with 74 yards on the ground in the loss, while quarterback AJ Codron totaled 87 yards through the air.
MacArthur improves to 6-3 and clinches a postseason berth while the Purple Raiders fall to 5-4 and await a potential playoff matchup during the Pairings Show tomorrow night.
The IHSA Football Playoff Pairings Show, will air live via the IHSA's new TV Network partnership with Weigel from 8:00 PM to 9:00 PM. on Saturday.  The show will also be streamed live on the NFHS Network and at IHSA.org.
The Pairings Show will also be naming the 2023 IHSA Pork & Pigskins State Champion. The contest, presented by the Illinois Pork Producers, looks to crown the best pork concession stand in the state. See the Savory 16 in the running for the state title here.
Other final scores throughout Central Illinois in Week 9:
(9-0) Central Catholic 22-15 Prairie Central (5-4)
(7-2) Normal West 40-24 Champaign Centennial (6-3)
(7-2) U-High 49-35 Jacksonville (4-5)
(9-0) Normal Community 42-0 Peoria Manuel (1-8)
(9-0) Tri-Valley 52-26 Eureka (5-4)
(6-3) Clinton 49-8 Pontiac (2-7)
(7-2) Heyworth 16-6 GCMS (6-3)
(5-4) Dee-Mack 22-20 Ridgeview/Lexington (2-7)
(6-3) El-Paso Gridley 35-12 Tremont (0-9)
(7-2) Olympia 49-12 PORTA (1-8)
(6-3) Chatam-Glenwood 42-14 Lincoln (5-4)
(8-1) LeRoy 56-28 Fieldcrest (4-5)
Normal Community, Central Catholic and Tri-Valley each finished the 2023 season undefeated at 9-0, and clinched their individual conference championships.
LeRoy, Heyworth and GCMS finished in a three-way tie for the HOI Small Conference Championship with conference records all knotted at 3-1.
The High School Football Extravaganza is sponsored by CEFCU.
Jake Fogal can be reached at [email protected].