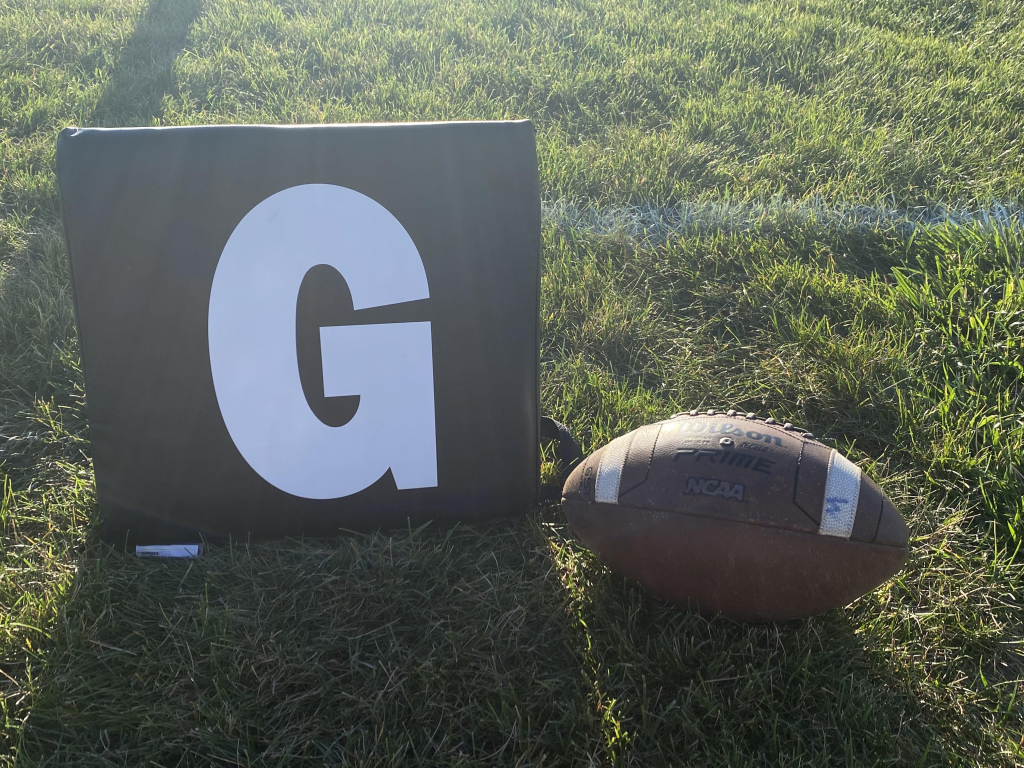 By Jake Fogal
NORMAL – It has been 8 years since U-High last took the field for a playoff game, but the third season under Head Coach Brody Walworth has propelled the Pioneers back to the promised land after a Week 8 victory over fellow Central State Eight Conference foe Lincoln 49-28.
Coach Walworth spoke with WJBC's Eric Lapan immediately following the win.
"Feel's great. That has been the goal since we got here three years ago. It's pretty special when you watch the progress. We have seen it, but to have it actually come to fruition right on the field earning win number six against a really good football team. Man, it's as good as it gets," Walworth said.
The Pioneers did not get to this point without some bumps in the road, as the Railsplitters of Lincoln put touchdowns on the board to go up 14-0 early in the first quarter. Railers running back Ki'on Carson found the end zone for both scores, one being a 63 yard scamper following a Lincoln interception.
"We have had some slow starts, I think it's kind of our Achilles' heel so far this year. Defensively we got caught on our heels and offensively we kind of stuttered a little bit with formation issues," Walworth said.
"I thought our kids didn't panic. That was really the key to this game down 14-0. It's pretty awesome to see us handle adversity in a positive way."
The Pioneers knotted it at 14 later in the first half as freshman Lyfe Campbell scored on a 55-yard run. Rhett Lynch also scored a touchdown in the second quarter to tie the game.
Railsplitters quarterback Darren Stevens put Lincoln back in the lead with a short TD run, before U-High scored twice within the final two minutes of the first half as quarterback Alek Weiland connected with Cade Cunningham on an 80 yard touchdown strike, and Mason Hooper-Willis for 24 yards and six points.
The Pioneers got the ball to start the second half, and put points on the board as tight end Martin Donahue ran for 57 yards.
Steven's managed to keep the Railers alive late in the 3rd quarter, completing a 75 yard pass touchdown to Kani Carson to cut the deficit back down to 42-28.
U-High was able to finish off Lincoln in the 4th quarter, as Weiland and Lynch each found the end zone on short runs to win the game 49-28.
Looking ahead, Coach Walworth kept it simple.
"We have got to keep it rolling. We can't be satisfied just with six [wins]" Walworth said.
The Pioneers improve to 6-2 with one week to play in the regular season. U-High will again be at Hancock Stadium next week for a meeting with Jacksonville. Lincoln will have one more chance to clinch a postseason berth this season, but will have to hit the road to Chatham-Glenwood In Week 9.
Other final scores throughout Central Illinois in Week 8:
(6-2) Peoria High 62-41 Normal West (6-2)
(5-3) Bloomington 40-2 Champaign Central (2-6)
(8-0) Normal Community 50-0 Peoria Notre Dame (5-3)
(4-4) Dee-Mack 16-8 El-Paso Gridley (5-3)
(2-6) Pontiac 32-14 IVC (0-8)
(6-2) GCMS 8-6 LeRoy (7-1)
(8-0) Shelbyville 28-12 Clinton (5-3)
(5-3) Eureka 54-20 Ridgeview-Lexington (2-6) (Mason Boles 27 Carries/434 yards/7 TDs. Both Eureka High School Records. 518 total ground yards in a single game is a Hornets all time record)
(8-0) Tri-Valley 42-8 Tremont (0-8)
(5-3) Monticello 21-13 Prairie Central (5-3)
(6-2) Olympia 36-0 Auburn (5-3)
(6-2) Heyworth 54-12 Fisher (0-8)
Central Catholic will be on the road Saturday for a 2:00 p.m. kickoff at Madison. Fieldcrest will also be away at Marquette Catholic Saturday. That game gets underway at noon.
The final week of the 2023 regular season will take the WJBC High School Football Extravaganza to Fred Carlton Field for a meeting between the 5-3 Bloomington Purple Raiders and the 5-3 Decatur MacArthur Generals. A win next week would be the first time the Purple Raiders have clinched a playoff spot since 2018.
The High School Football Extravaganza is sponsored by CEFCU.
Jake Fogal can be reached at [email protected].