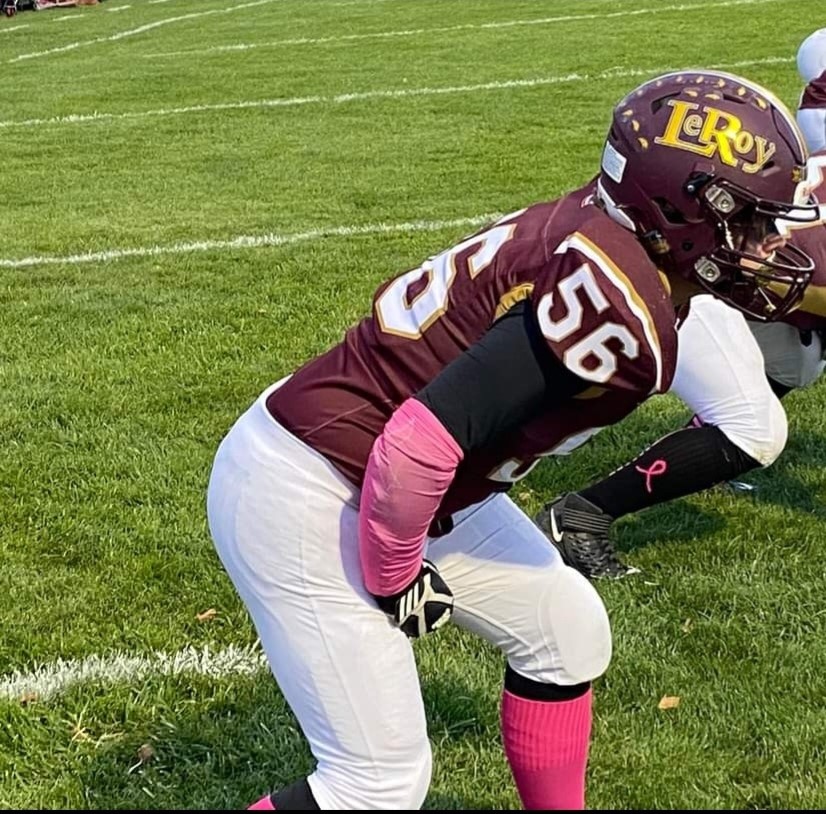 By Jake Fogal
LEROY – Seven weeks, seven wins. That's the definition of LeRoy's 2023 football season thus far as the Panthers continued their winning ways in Week 7, beating up on fellow Heart of Illinois Small Conference foe Heyworth, 40-19.
"A testament to these kids and how hard they have worked with and for each other. They are a really tight group, who enjoy playing the game. It makes Friday night's a lot of fun," said LeRoy Head Coach BJ Zeleznik.
The scoring output was led by quarterback Bo Zeleznik, who totaled four scores on the night. Three of his touchdowns came on the ground, while his fourth was a completed pass to Jasper Tarr in the 2nd Quarter.
Windy conditions forced both team's to keep the ball out of the air. Seniors Matt Stuepfert and Brody Bennett both rushed into the end zone in the second half, helping extend LeRoy's lead.
The Hornets of Heyworth could not get the offense rolling early, dropping behind by 20 points early to the Panthers. Heyworth continued to fight, as quarterback Parker Bell was the first Hornet to find six points, rushing into the end zone for a touchdown late in the second quarter.
Running backs Brayden Brucker and Devyn Porzelius each added a touchdown in the loss.
Head Coach of the Hornets Nate Albaugh spoke with WJBC's Neil Doyle after the game.
"We were a little overwhelmed at first with how physical they were and how well they get off the ball. They[LeRoy] executed at a very high level. I was proud to see our guys recover and start to turn it back into a football game." said Coach Albaugh.
"It hurts right now, but overall we lost to a really good football team. You tip your cap and try to get better."
Heyworth drops to 5-2 overall, and 1-1 in the HOI Conference. The Hornets hit the road to 0-6 Fisher in Week 8, looking to get back into the win column.
The Panthers improve to 7-0 on the season, and 2-0 in conference play. LeRoy is in for another tough challenge in Week 8, taking on a 5-1 GCMS Falcons group. Coach Zeleznik says his team is taking it one day at a time.
"You are getting to the point of the season where the body stops healing and now you're going on grits, guts, faith and attitude. Right now we have a lot of that and I'm happy," Zeleznik said.
Other final scores throughout Central Illinois in Week 7:
(7-0) Normal Community 66-0 Urbana (0-7)
(5-2) Peoria 52-12 Bloomington (4-3)
(5-2) Chatham-Glenwood 35-0 U-High (5-2)
(7-0) Central Catholic 33-0 IVC (0-7)
(6-1) Normal West 35-7 Springfield (2-5)
(5-2) St. Joesph-Ogden 54-14 Pontiac (1-6)
(3-4) Fieldcrest 40-0 Fisher (0-7)
(3-4) Dee-Mack 46-0 Tremont (0-7)
(5-2) Clinton 48–24 Warrensburg-Latham (3-4)
(7-0) Rochester 55-0 Lincoln (5-2)
(7-0) Tri-Valley 50-6 Ridgeview/Lexington (2-5)
(5-2) El-Paso Gridley 28-7 Eureka (4-3)
(5-2) Olympia 61-21 Pleasant Plains (3-4)
Prairie Central and GCMS will both be in action on the road Saturday. The Hawks will take on Herrin, while the GCMS Falcons meet Class 1A number two ranked Forreston. Both games kickoff at 2:00 p.m.
The featured game on the WJBC High School Football Extravaganza in Week 8 will be held at Hancock Stadium, as the U-High Pioneers host the Lincoln Railsplitters for Central State Eight action. Both team's are looking to rebound after Week 7 losses. Tune in for the game at 6:00 p.m. next Friday on AM 1230 FM 102.1 WJBC.
The High School Football Extravaganza is sponsored by CEFCU.
Jake Fogal can be reached at [email protected].