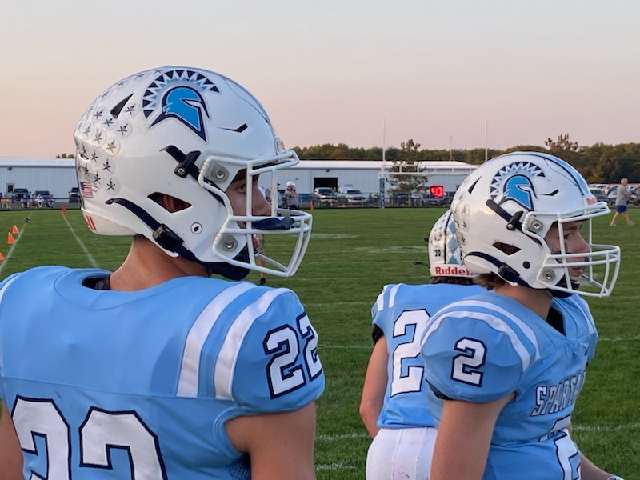 By Jake Fogal
STANFORD – A 40-yard touchdown run early in the fourth quarter Friday night from Olympia Spartan's senior Nic Olsen gave life to a Stanford crowd as the Spartans sat two points behind a Class 2A #1 Maroa-Forsyth team with 11 minutes to play. The two point conversion attempt that followed came up a yard short of the end zone, leaving Olympia down with little time remaining.
A Trojan touchdown several minutes later put the game out of reach, moving Maroa-Forsyth to 6-0, and the Spartans to 4-2.
Quarterback Kaiden Maurer led the scoring barrage for the Trojans, tossing four touchdowns, and rushing for one against the Spartans. Maurer hit three different receivers for scores, as tight end Grant Smith totaled two touchdowns, Mitch Williams added one in the second quarter, and Zayn Giles caught one in the third.
Olympia senior wide out Nic Olsen was making the plays for the Spartans, adding two touchdowns to the scoreboard, one on a Hail Mary attempt at the end of the second quarter. Olsen also added an interception to his stat line that set up his touchdown run in the 4th quarter.
Running Back Cohen Alexander found the end zone for six points against Maroa-Forsyth, and quarterback Zach Keedy threw one touchdown pass in the loss.
Head Coach of the Spartans Eric Lyons spoke during the High School Football Extravaganza Postgame show, highlighting the effort from his team.
"I thought it was a tremendously high-level football game played. I'm really proud of the effort our kids gave. At the end of the day, when you give a tremendous effort, that's what you can ask for," Lyons said.
Despite the loss, no confidence is missing from Coach Lyons, who still has his sights set on a Class 3A State title.
"If we find a way to fix a few things, we can be right in the mix to win a state title," said Olympia head coach Eric Lyons.
In Week 7, Olympia hits the road to Pleasant Plains while the unbeaten Trojans of Maroa-Forsyth head home for a clash with a 5-1 Williamsville group.
Other final scores throughout Central Illinois in Week 6:
(5-1) Normal West 54-0 Peoria Manuel (0-5)
(6-0) Normal Community 42-10 Danville (2-4)
(5-1) U-High 73-6 Urbana (0-6)
(6-0) Central Catholic 35-21 St. Joseph-Ogden (4-2)
(4-2) Bloomington 34-20 Champaign Centennial (4-2)
(5-1) GCMS 40-14 Fieldcrest (2-4)
(4-2) Tolono Unity 55-6 Pontiac (1-5)
(4-2) Eureka 63-6 Tremont (0-6)
(6-0) LeRoy 55–18 Fisher (0-6)
(6-0) Tri-Valley 28-8 Dee-Mack (2-4)
(5-1) Heyworth 42-22 Rushville (2-4)
(4-2) Clinton 49-27 Tuscola (2-4)
(4-2) Prairie Central 32-0 PBL (4-2)
(5-1) Lincoln 41-28 Jacksonville (2-4)
(4-2) El-Paso Gridley 47-18 Ridgeview-Lexington (2-4)
Our featured game in Week 7 has yet to be announced. Tune into AM 1230 FM 102.1 WJBC next week for an update of who will be on the WJBC High School Football Extravaganza sponsored by CEFCU. Catch the game on AM 1230 FM 102.1 WJBC, as pregame coverage will get underway at 6:00 p.m.
The High School Football Extravaganza is sponsored by CEFCU.
Jake Fogal can be reached at [email protected].