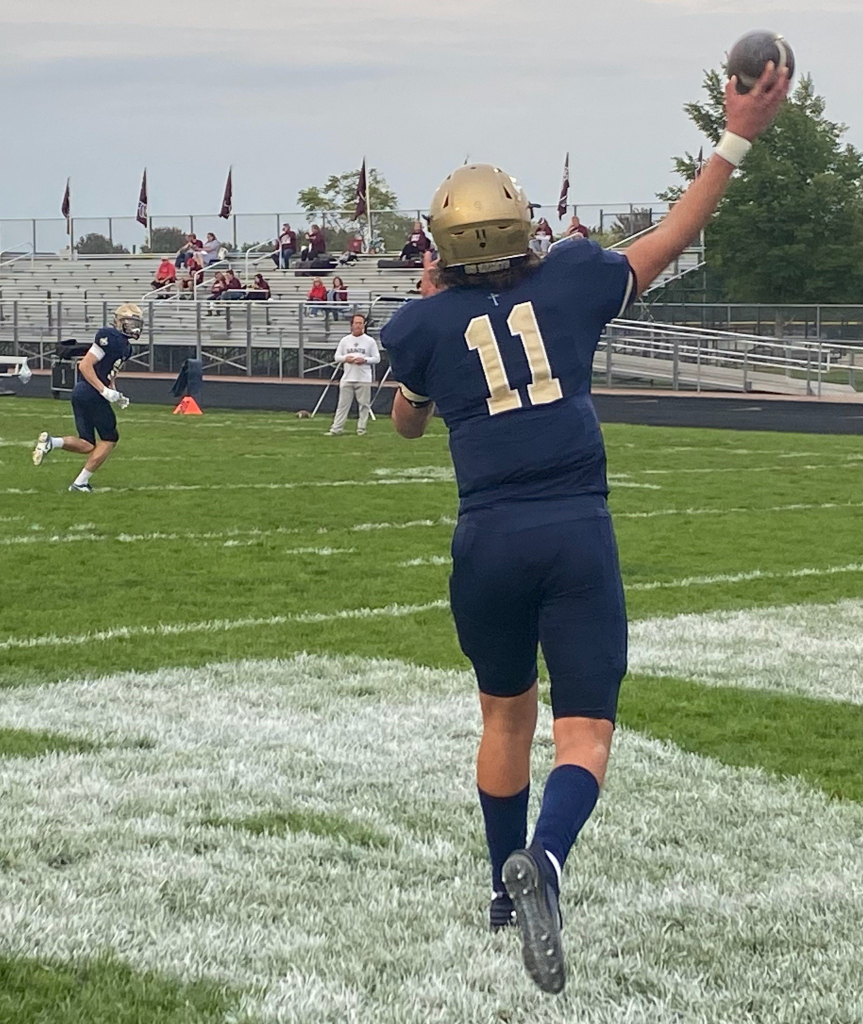 By Jake Fogal
BLOOMINGTON – The Central Catholic Saints relied on their field general in Week 5 to defeat a conference rival, but not in the way you may think.
Senior quarterback for the Saints Colin Hayes beat the Rockets with his legs instead of his arm, finding the end zone for six rushing touchdowns in Week 5. Central Catholic's rushing attack aided by Will Adelman, was impossible for the Rockets to stop, leading to a 42-7 victory for the Saints.
Head Coach of the Saints, Kevin Braucht, say's his team played an all-around game, crediting his players and coaches for the win.
"Tolono has been very dominate in our league since I have been here, so I think this is a good measure stick for us," Braucht said.
"I'm really proud of our program right now. Things are pointing in the right direction, but we have to stay patient as we have things we can improve on."
Picking up the lone score for Unity was senior running back Halen Daly, tying up the Saints early in the first quarter.
The Saints improve their record to 5-0, and take on their toughest challenge yet next week in state ranked St. Joseph Ogden on the road. Tolono Unity drops to 3-2 on the season, and next challenges Pontiac in Week 6.
Other final scores throughout Central Illinois in Week 5:
(5-0) Normal Community 34-0 Bloomington (3-2)
(4-1) U-High 68-6 Springfield Lanphier (0-5)
(4-1) Normal West 49-14 Peoria Richwoods (1-4)
(3-2) Clinton 54-20 Meridian (1-4)
(5-0) Tri-Valley 31-13 El-Paso Gridley (3-2)
(3-2) Monticello 40-8 Pontiac (1-4)
(4-1) Lincoln 34-26 Springfield Southeast (0-5) Central A&M (2-2)
(4-1) Olympia 46-19 New Berlin/Franklin/Waverly (3-2)
(3-2) Prairie Central 55–20 IVC (0-5)
(4-1) Heyworth 29-28 Fieldcrest (2-3)
(4-1) GCMS 42-0 Fisher (0-5)
(3-2) Eureka 42-8 Dee-Mack (2-3)
Next week on the WJBC High School Football Extravaganza sponsored by CEFCU, our featured game of the week will take us out of the Twin Cities as the seventh ranked team in Class 3A Olympia, hosts the number one ranked team in Class 2A Maroa-Forsyth. Olympia holds a 4-1 overall record, while the Trojans of Maroa are undefeated on the year. Catch the game on AM 1230 FM 102.1 WJBC, as pregame coverage will get underway at 6:00 p.m.
The High School Football Extravaganza is sponsored by CEFCU.
Jake Fogal can be reached at [email protected].