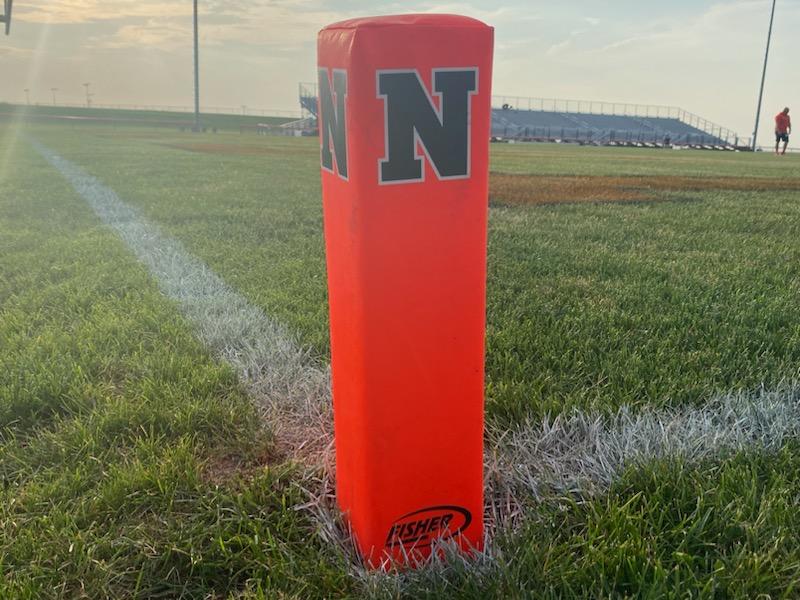 By Jake Fogal
NORMAL – The Ironmen have not only survived the gauntlet through four weeks of the regular season, but instead have proven that they belong at the top after defeating Peoria High in Week 4 63-42.
The Ironmen are up to 4-0 on the season and have also added wins over Sacred Heart Griffin and Normal West to their resume this season, both by double digit margins. Ironmen Head Coach Jason Drengwitz reacted to the 4-0 start following his win over the Lions.
"I feel lucky to be the head coach of this program, to have the guys that we have on this team. It's a lot of fun when you can enjoy the time together and you can also be successful. Proud of everybody," Drengwitz said.
Through four weeks, the rushing attack for the Ironmen has been the primary scoring threat, but on Friday night Coach Drengwitz gave quarterback Kyle Beaty the keys to run the show, totaling seven touchdowns for NC.
"For as good of a football player as he is, he is a better young man. He is smart, he makes really good decisions and guys trust him. When he throws the ball well, he's a really good quarterback for us, but it takes a whole 11 to make it work," Drengwitz said.
Batey threw for 231 yards and 4 touchdowns, and found the endzone three additional times near the goal line. Mar'Quan Gary was the primary receiver in Week 4, totaling 120 yards and two scores on five receptions. Ivoreon Austin also tallied two touchdowns in the win, along with 4 catches for 79 yards.
The rushing attack still didn't suffer, as Tommy Davis led the group with 161 yards on the ground and a touchdown.
Breon Green led the passing attack for the Lions, throwing for three touchdowns and 137 yards, but where the Ironmen struggled in Week 4 came against Peoria's rushing attack. Muleek Ross carried the ball for nearly 300 yards in the loss to Community, and added two touchdowns to his stat line throughout the game.
Sean Franklin, Jaylen Rayford and Spencer Russell each caught one touchdown from Green, all in the second half.
Normal Community will stay at Dick Tharp Field in Week 5 hosting Bloomington. The Purple Raiders picked up a win in Week 4 over Danville 31-14.
Peoria falls to 2-2 in 2023, and will stay on the road in Week 5, taking on a winless Peoria Manuel program.
Other final scores throughout Central Illinois in Week 4:
(3-1) Bloomington 31-14 Danville (1-3)
(3-1) Normal West 65-14 Urbana (0-4)
(3-1) U-High 28-14 Decatur MacArthur (1-3)
(4-0) Central Catholic 24-16 Monticello (2-2)
(3-1) Lincoln 48-6 Peoria Manuel (0-4)
(3-1) El-Paso Gridley 45-6 Elmwood (1-3)
(2-2) Clinton 28-0 Central A&M (2-2)
(3-1) Paxton-Buckley-Loda 55-14 Pontiac (1-3)
(4-0) LeRoy 47– 0 Tremont (0-4)
(3-1) Olympia Spartans 27-20 Williamsville 20 (3-1)
(2-2) Prairie Central 48-0 Rantoul (0-4)
(3-1) Gibson City-Melvin-Sibley 34-14 Eureka (2-2)
(4-0) Tri-Valley 55-12 Fieldcrest (2-2)
(1-3) Ridgeview/Lexington 50-18 Fisher (0-4)
Next week on the WJBC High School Football Extravaganza sponsored by CEFCU, our featured game of the week will take us to Central Catholic as the Saints host Illini Prairie Conference foe Tolono Unity. Both teams are state ranked in Class 3A.Catch the game on AM 1230 FM 102.1 WJBC, as pregame coverage will get underway at 6:00 p.m.
The High School Football Extravaganza is sponsored by CEFCU.
Jake Fogal can be reached at [email protected].