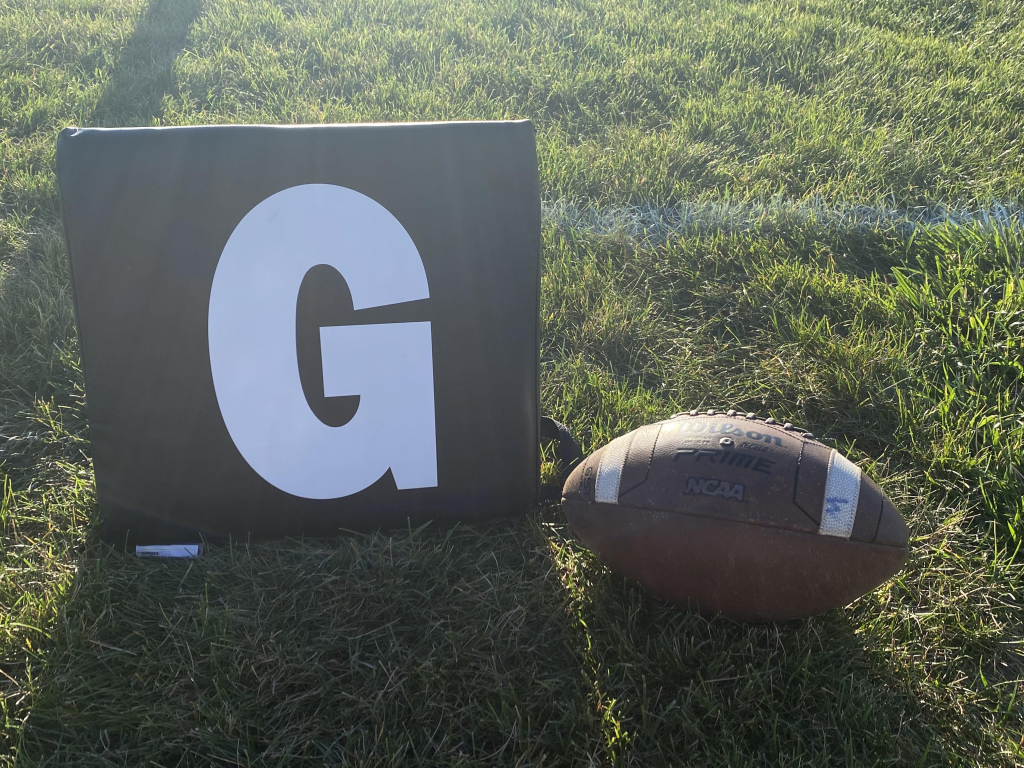 By Jake Fogal
NORMAL – Flags littered the field at Wildcats Stadium Friday night as Normal West had it's first home game of the season, renewing it's rivalry with Bloomington. Unsportsmanlike penalties were a theme for both sidelines, as the two team's were eager to gain an edge in this intercity clash, though the Wildcats came out on top 35-14 in Week 2 of the High School football season.
"We struggled a bit, had some stupid penalties, and they extended some drives. But offensively we responded well and our defense figured it out and hung tough the rest of the game. That first half did not go the way we wanted it to," Normal West Head Coach Nathan Fincham said.
Wildcats quarterback Johnny Freymann had the offense firing on all cylinders, completing 17 of his 23 passes on the night, for 231 yards and 4 touchdowns. Three of the touchdowns went to wide receiver Sencerre Brown, who on the night tallied six receptions for 101 yards.
The Wildcats opened the night recovering a fumble on the first play of the game. Running back Josiah Edmonson found his way into the end zone with good starting field position. Freymann also connected with wide out Cooper Temples for six points, giving NWHS an early 14-0 lead.
Bloomington jumped on the back of senior rusher Cameron Smith, who scored twice for the Purple Raiders to tie the game in the first quarter. Smith ran for 61 yards on the night. Bloomington quarterback AJ Codron threw the ball 36 times Friday night, completing 14 passes for 80 yards. Garrick Dickerson led all BH recievers with 6 catches for 41 yards.
A stout Wildcats defense held the Purple Raiders scoreless the rest of the way, leading to the 35-14 victory and a 2-0 start. After a win in Week 1, Bloomington drops to .500 on the year, at 1-1.
"We are going to enjoy this. We don't ever take for granted these wins you have over teams in town," said Coach Fincham.
Head Coach of the Purple Raiders, Scott Godfrey, chalks up the loss to way to many mistakes.
"We didn't measure up. Lot to be desired, too many guys cramping, too many blown assignments and just too many mistakes. Your not going to beat a quality team like Normal West with that many plays left on the field," Godfrey said.
"We have to figure out which guys are going to take football seriously enough to not cramp on a night like this, which guys are going to know their routes, and too many blown assignments. Those are the things that bad teams do and if we don't improve in those areas we are going to continue to lose."
Normal West takes the field at Wildcats Stadium again next week, hosting another intercity foe for the Chili Bowl. Normal Community make the cross town trip to it's rival, and we will have the game featured in Week 3 on the WJBC High School Football Extravaganza sponsored by CEFCU.
Other final scores throughout Central Illinois in Week 2:
(2-0) Normal Community 57-6 Champaign Central (0-2)
(2-0) Central Catholic 56-0 Rantoul (0-1)
(1-0) Normal West 47-7 Champaign Central (0-1)
(1-1) Sacred Heart-Griffin 35-17 U-High (1-1)
(1-1) Stockton 47-13 Heyworth (1-1)
(1-1) Rockridge 39-32 Ridgeview/Lexington (0-2)
(2-0) Lincoln 46-6 Eisenhower (0-2)
(2-0) El Paso-Gridley 42-8 Fieldcrest (1-1)
(2-0) Shelbyville 44-36 Eureka (1-1)
(2-0) Dee-Mack 16-0 GCMS (1-1)
(2-0) Tri-Valley 34-14 Clinton (1-1)
(1-1) Prairie Central 47-6 Pontiac (0-2)
(2-0) Olympia 35-14 Pittsfield (0-2)
(2-0) LeRoy 41-0 Meridian (0-2)
The High School Football Extravaganza is sponsored by CEFCU.
Jake Fogal can be reached at [email protected].