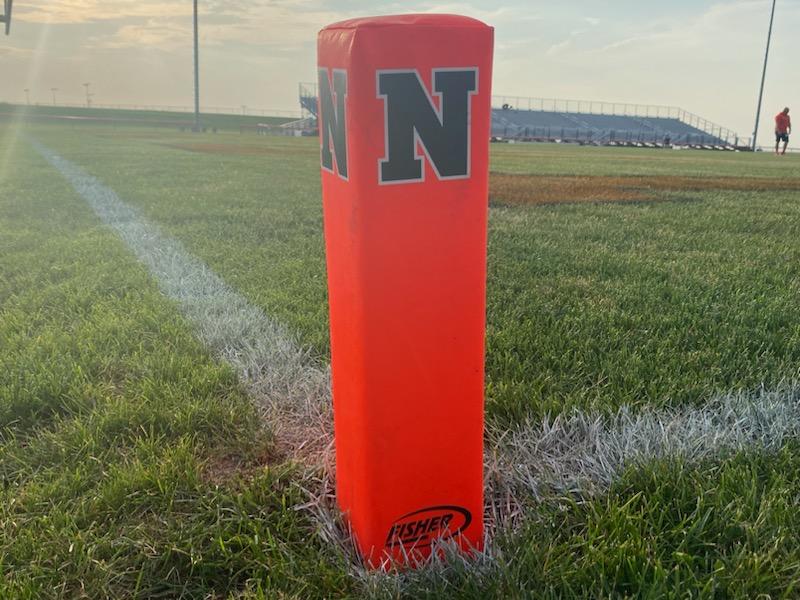 By Jake Fogal
NORMAL – Expectations were lofty heading into the 2023 season for the Normal Community Ironmen football team, and a week one matchup challenging one of the best programs in Illinois would be the first test.
The Ironmen jumped on the back of their skill position players, as running backs Tommy Davis and Calen Davis, and wide receiver Mar'Quan Gary led the way in scoring for NCHS, each scoring 2 touchdowns on the night.
Kyle Beaty added two touchdowns through the air, one being a 27-yard completion to Gary. Taylor tallied the other touchdown on a screen pass.
Normal Community's defense also made it's presence felt, as senior's Aiden Boundy and Brady Augstin both took interceptions back to the house in the second quarter, giving the Ironmen a 34-7 advantage after one half of play.
Community managed to hold the reigning Class 4A State Champions to two touchdowns in the opening game of the season, winning 54-14.
Head Coach of the Ironmen, Jason Drengwitz says staying hydrated was an added emphasis in practice this week as blistering heat impacted all of Illinois. He added his team stayed energetic throughout the entirety of the game, which featured a nearly two hour lightning delay.
"We were really excited to play at home and we were really excited to play this game. It's even more exciting when you play a program, a coaching staff, and a roster like theirs(SHG). I feel like we came out energetic, physical, aggressive and everyone was into the game," Drengwitz said.
"All week long, we talked about the key of the game was taking care of ourselves all week physically with the heat. Resting and eating right, as well as staying hydrated. We stacked a good week of practice together despite adjustments. We handled adversity tonight and the unknown, and I feel like we really did a good job of that tonight."
Other final scores throughout Central Illinois in Week 1:
(1-0) Central Catholic 63-6 Pontiac (0-1)
(1-0) Bloomington 41-0 Peoria Richwoods (0-1)
(1-0) Normal West 47-7 Champaign Central (0-1)
(1-0) Dee-Mack 54-13 Chicago Academy/Kelvyn Park (0-1)
(1-0) GCMS 41-13 Ridgeview/Lexington (0-1)
(1-0) Fieldcrest 20-19 Dwight (0-1)
(1-0) Tolono Unity 27-13 Prairie Central (0-1)
(1-0) Eureka 49-6 Canton (0-1)
(1-0) U-High 35-18 Springfield (0-1)
(1-0) Tri-Valley 14-0 Warrensburg-Latham (0-1)
(1-0) Lincoln 41-8 Lanphier (0-1)
(1-0) Clinton 43-6 Tremont (0-1)
(1-0) LeRoy 14-12 Central A&M (0-1)
(1-0) Olympia 55-0 Riverton (0-1)
(1-0) El-Paso Gridley 49-20 Meridian (0-1)
(1-0) Heyworth 34-28 Hamilton/Warsaw (0-1)
The High School Football Extravaganza is sponsored by CEFCU.
Week 2 coverage will take us to Normal West as the Wildcats renew an intercity rivalry with Big 12 rival Bloomington. Pregame coverage will begin at 6:00 on September 1st, right here on WJBC.
Jake Fogal can be reached at [email protected].