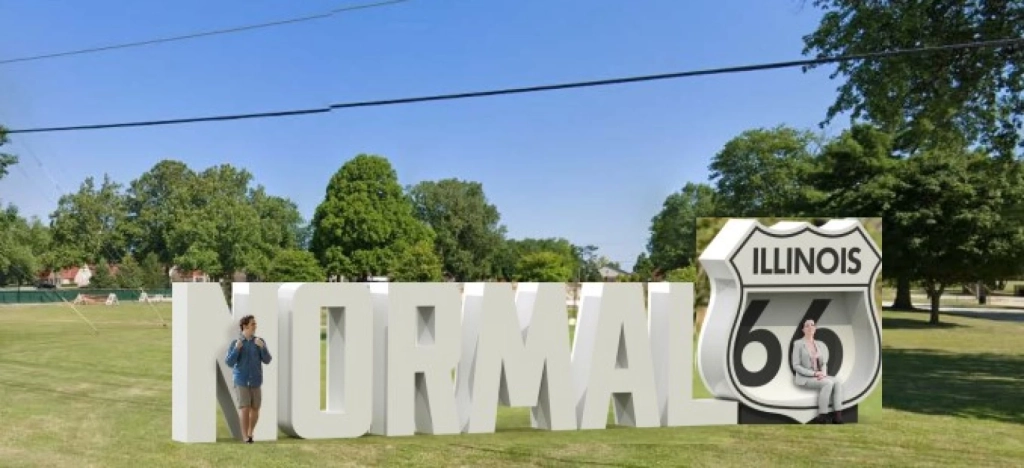 By Jake Fogal
MCLEAN COUNTY – Route 66 is getting an upgrade as the historic roadway approaches it's centennial year in 2026.
Plans were approved at last week's Normal Town Council meeting that places a huge roadside attraction at Normal One Plaza, spelling out in giant letter's 'NORMAL'.
Bloomington Normal Area Convention and Visitors Bureau's Matt Hawkins shared some of the details with WJBC's Scott Miller.
"It will be about 43 feet wide, with a Route 66 badge on the right hand side that will be about 10 feet high and the letters themselves will be 8 feet tall," Hawkins said.
Aside from the large sign planned for the Town of Normal, additional signage showcasing Route 66 is expected for other McLean County communities such as Bloomington, Chenoa, Lexington and McLean.
Hawkins says the project is being funded by a grand from the Illinois Office of Tourism.
"The 66 centennial coming up in 2026 will be a huge event. We feel like these signs will be very social media friendly, and it will promote a welcome message as a gateway sign for visitors traveling through the community," Hawkins said.
"Overall, we are super excited about it and can't wait to get them installed later this summer."
Jake Fogal can be reached at [email protected].