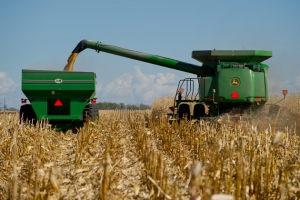 By Blake Haas
BLOOMINGTON – Harvest season is full force in McLean County, and large machinery is hitting the roadways.
As more equipment hits the roadways, those in the agricultural industry are warning the public to be careful when encountering heavy machinery.
"By all means, be careful," Hall of Fame Agriculture Broadcaster Max Armstrong said on the afternoon show. "Slow down a little bit because you don't know what's going to be around that curve or over the hill with a big piece of equipment."
According to the National Agricultural Tractor Safety Initiative, around 130 people die each year from tractor-related incidents.
"(Slow down) especially if you are off on one of the county roads," added Armstrong. "Watch those blind intersections because the corn is still standing, and you're not sure what is coming on sometimes."
One of the leading causes of tractor-related accidents is corn creating a blind spot at a four-way stop.
Blake Haas can be reached at [email protected].