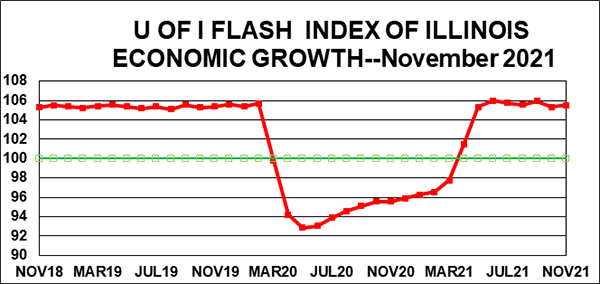 By Dave Dahl
SPRINGFIELD – Illinois' economic performance continues.
A monthly reading of the state's activity, the Flash index, is up a tick from 105.4 to 105.5 as of the first of December. The index, authored by University of Illinois economics professor Fred Giertz, considers consumer spending, corporate earnings, and personal income.
The month's rise, says Giertz, "is evidence of the ability of the economy. But the wild card in this is … the new covid variant – omicron – which may have an impact in the future, so the fact that we did relatively well last month may not necessarily say a lot about where we are going in the future."
Illinois' unemployment rate, two percentage points greater than the nation's is not a cause for panic, says Giertz, who is optimistic the gap will narrow.
Dave Dahl can be reached at news@wjbc.com