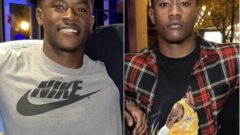 By Blake Haas
LASALLE COUNTY – Authorities confirmed that the body found floating in the Illinois River weeks ago was identified as missing Illinois State University student Jelani Day.
According to a news release, authorities identified Day, 25, of Bloomington, through forensic dental identification and DNA testing and comparison.
Day was reported missing on August 25 and was last seen at Beyond Hello in Bloomington on August 24. On August 26, Day's vehicle was located in Peru, Illinois.
Once Day's vehicle was discovered, police established a command post with extensive K9 dogs by Illinois State Police, Peru Fire, and Utica Fire as well as a ground search by teams from Peru, Utica, and Oglesby.
According to Bloomington Police Public Information Officer John Fermon, investigators, including the FBI, have additional information, but they are not disclosing the details.
"We have some information that we haven't released, and right now, we are not going to release it. And I know that's kind of in connection with the LaSalle County's Sheriff's Office investigation. Really, since it's an active investigation, there's not a lot of new information that we're going to release. Of course, we know more now, today, and a few weeks ago when we got the case."
On September 4, a search was conducted in the LaSalle Peru area by members of the Illinois Search and Rescue Council and other search agencies.
"It is an active investigation; I can tell you that while we were investigating it, we don't really have any specific details that I can tell you from the get-go foul play or not it's unusual," Fermon told reporters on Thursday.
Ferman said during that search; detectives found Day's body floating near the south bank of the Illinois River approximately 1/4 mile east of the Illinois Rt. 251 Bridge.
"Our investigation is not complete. And I know the LaSalle County Sheriff's Office investigation is not complete," Ferman told reporters on Thursday.
On Thursday, day's family released a statement saying the investigation is not over, and the family is still looking for answers.
"There are no words to clearly communicate our devastation," the family said in a social media post. "We learned this morning from the LaSalle County Coroner the deceased man found in Peru, IL. on Saturday, September 4 is Jelani. Our hearts are broken. We ask that you continue to pray for our family during what will be very hard days ahead. Throughout these 30 days, our very first concern was finding Jelani, and now we need to find out #WhatHappenedToJelaniDay."
In a statement to the student body, faculty, and staff, Illinois State University President Dr. Terri Goss Kinzy said the university is remembering Day as a kind, intelligent, and caring graduate student who was pursuing a Master's degree.
"His family and friends are foremost in our thoughts during this difficult time, and we extend our deepest condolences."
Authorities say the cause of death is unknown and is still under investigation.
In addition, police report toxicology results are pending.
Anyone with information is encouraged to contact Bloomington Police.
Blake Haas can be reached at Blake.Haas@Cumulus.com