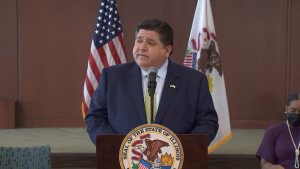 By WJBC Staff
SPRINGFIELD – Nearly 26,000 new and probable cases of COVID-19 infection are being reported over the past week.
There have also been 285 more COVID-related deaths since last Friday. At last count, a little over 2,000 patients were in the hospital in Illinois, and Region five in Southern Illinois has no ICU beds available.
"Although we are providing staffing and making sure that if someone does show up at a hospital that they can get cared for, that is only available to us for a limited basis for a limited period of time if people don't take seriously the mitigations that we have in place to bring down the infection rate," said Gov. JB Pritzker. "Make sure you encourage your friends and family to be vaccinated. It is safe, it's widely available, it will keep you healthy, and of course, making sure that our kids are masked in schools, especially those who can't get vaccinated, is a very important part of keeping our communities healthy."
About 20,000 doses of the vaccine are being given daily in Illinois, and 61.2% of Illinoisans age 12 and up are now fully vaccinated.
WJBC News can be reached at News@WJBC.com.