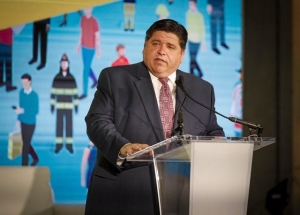 By Blake Haas
BLOOMINGTON – More than a month after historic flooding in McLean County, Gov. Pritzker on Friday submitted a request to the U.S. Small Business Administration seeking a disaster declaration.
The declaration, if approved, would provide financial assistance to residents and businesses to apply for low-interest, long-term loans.
"This funding from the federal government will allow the State to provide the full scale of support and tools needed to support the community as they recover from recent storms," Gov. Pritzker said in a news release.
During the last week of June, McLean county received six to 10 inches of rain.
"Protecting the health and safety of every resident in Illinois is a top priority for my administration, and this disaster declaration opens the door to much-needed funding for McLean County residents and businesses to rebuild," added Gov. Pritzker.
To help individuals with assistance with flooding questions, McLean County hosted a Multi-Agency Resource Center in Bloomington, where more than 100 people visited the one-stop shop.
Those who still need assistance can visit Ready.Illinois.gov.
Blake Haas can be reached at Blake.Haas@Cumulus.com.