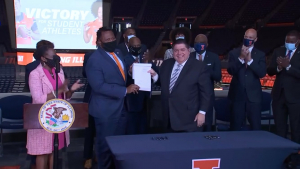 By Blake Haas
CHAMPAIGN – Student-athletes across the state can now receive compensation while in school after Gov. Pritzker signed SB 2338 into law.
The Endorsement Rights Act grants student-athletes control over their name, image, and likeness or voice for the first time in state history through NIL legislation.
"When I sign this bill into law, Illinois will lead the United States in giving student-athletes the opportunity to sign endorsement deals of their own. Joining a growing coalition of states leading the fight for innovation in our modern collegiate sports system," added Gov. Pritzker before the bill signing. "Let me be clear, Illinois is now at the forefront of this movement; yet another reason for student-athletes to choose Illinois for college."
Joining Gov. Pritzker at State Farm Center in Champaign was House Speaker Chris Welch and University of Illinois Athletic Director Josh Whiteman, who called the bill legislation a "new era."
"This is one of those days that allows us to begin to usher in the new era of college athletics. Truly NIL legislation represents the most dramatic, meaningful change to come to the collegiate model since the adoption of athletic scholarships since the 1950s. This day has been in the works for many years."
𝗦𝗜𝗚𝗡𝗘𝗗 ✍🏻

A truly historic day at State Farm Center as Governor Pritzker signed SB 2338. Student-athletes in the State of Illinois will be able to profit off of their Name, Image and Likeness on Thursday at 12:01 am. pic.twitter.com/nM3FpYgQBI

— Illinois Athletics (@IlliniAthletics) June 29, 2021
So far, only six states – Alabama, Florida, Georgia, New Mexico, Mississippi, and Texas allow student-athletes to receive compensation for their name, image, and likeness.
Governor Pritzker signs major legislation that will allow Illinois' student athletes to be compensated. https://t.co/RqaucVijUZ

— Governor JB Pritzker (@GovPritzker) June 29, 2021
SB 2338 takes effect on July 1, 2021.
Blake Haas can be reached at Blake.Haas@Cumulus.com.