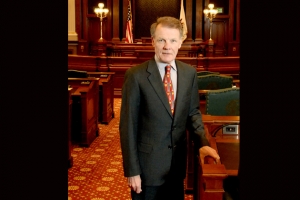 By Dave Dahl
SPRINGFIELD – If House Speaker Mike Madigan (D-Chicago) is listening, Illinois Republicans have a message for him — GET OUT. 
Members of Madigan's Democratic caucus should stand up once and for all, says House Minority Leader Jim Durkin (R-Western Springs) during an online news conference Thursday.
"We are in the minority They are the ones who have to make a decision, put on their big boy and big girl pants, and actually do something that's right for the state of Illinois, rather than just kind of whimpering in the corners and trying to think that this isn't really occurring, and we'll take it up in January," when the legislature reconvenes, said Durkin.
"This is a crisis of confidence at the highest level that I have seen serving in my years in the House of Representatives."
The news conference came a day after indictments were unveiled against four people, including a former Commonwealth Edison CEO and a former top lobbyist – the latter a close friend of Madigan, as part of a federal investigation alleging the utility orchestrated bribes to Madigan to grease legislation its way. While ComEd has entered into a federal deferred prosecution agreement under which it agreed to pay $200 million.
The chair of the special investigating committee the House formed to look into all this, State Rep. Chris Welch (D-Hillside), said the feds indicting people connected to the probe doesn't mean the Republicans can grandstand.
While the investigation implicates Madigan, he has not been charged and maintains his innocence.
Dave Dahl can be reached at News@WJBC.com.