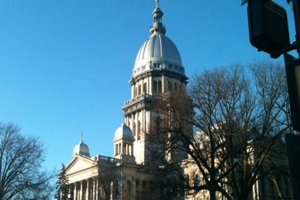 By Illinois Radio Network
SPRINGFIELD – Illinois lawmakers aren't interested in helping Chicago officials raise taxes, but some are willing to negotiate.
Chicago Mayor Lori Lightfoot said state lawmakers need to allow her to raise a tax on high-end real estate to balance the city's budget, but state lawmakers aren't high on voting for a tax hike. Lightfoot is asking lawmakers to approve graduated rates on higher-priced properties that the city estimates would bring in $50 million in additional revenue.
The city currently charges 1 percent on all property transfers.
A group of Chicago lawmakers sent the mayor a counter-offer: Raise the rates on the most expensive properties even higher – 4 percent on property value above $10 million – and use the extra funds to help the homeless.
"I can't emphasize enough that we see this proposal as a 'win-win' opportunity for everyone," said state Rep. Theresa Mah, D-Chicago.
A key component of the counterproposal is that 45 percent of the revenue would go to address homelessness.
"A dedicated stream in this transfer tax is important," said state Rep. Delia Ramirez, D-Chicago. "Then, we can freely begin projecting what it's going to take and what we already have available."
Ramirez managed facilities and shelters to help the homeless before she took office. She and other advocates have been dogging Lightfoot for proposing to use the increased tax to close a budget hole instead of sending it to help the homeless, as she promised in her campaign.
The real estate community has said the proposal would put the city's transfer rates among the highest in America amid what they say is slowing demand for new construction.
"The Chicago Association of Realtors strongly opposes an increase in transfer taxes, which will most certainly discourage commercial and residential growth," said Kristopher Anderson, the association's director of government affairs. "On Wednesday at budget hearings, the Commissioner of the Department of Buildings for Chicago spoke about a number of planned Chicago projects. However, only four more cranes are scheduled to be erected soon. We believe this hesitancy to build is brought about by the uncertainty around taxes and pension obligations in Chicago."
Ramirez said she wasn't concerned about the higher rates. She said the funds devoted to homelessness would, in part, go to paying for affordable housing, which would increase demand.
Homelessness in Chicago has touched tens of thousands. According to the U.S. Census, 86,324 Chicago residents have at one point experienced homelessness. Ramirez said they're most often minorities and children.
Illinois Radio Network can be reached at News@WJBC.com.