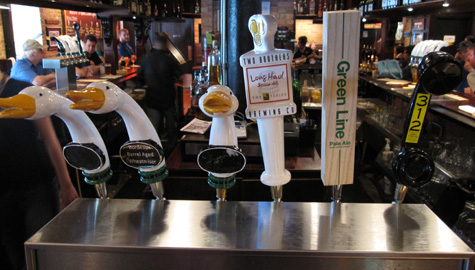 By Illinois Radio Network/Jim Moran
SPRINGFIELD – Illinois has made it easier for beer drinkers to refill a growler or crowler.
The amendment to the Illinois Liquor Control Act was aimed at helping the state's craft beer industry make locally brewed beer more accessible. House Bill 3610 allows any bar or restaurant that sells draft beer to fill up a customers growler or crowler container to go. The bar or restaurant must meet sanitary and packaging requirements.
A growler is typically a 64-ounce metal or glass jug. A crowler is a can that can be filled and sealed on-site. The law allows for growler and crowler sizes of up to 128 ounces.
The new state law has three parts, said Danielle D'Alessandro, executive director of the Illinois Craft Brewers Guild. The first part expands brewing capacity limitations for craft breweries. The second expands who can re-fill growlers and crowlers.
"For the first time, [the law] extends growler and crowler sales for on-premise retailers to be able to fill and sell to non-licensees or consumers for off-premise consumption," D'Alessandro said.
The third part of the law allows craft brewpubs to sell growlers or crowlers of any guest beer on tap in addition to beer brewed onsite.
D'Alessandro said the Illinois Craft Brewers Guild provided input to lawmakers as they crafted the measure. The law comes with sanitary requirements for the growlers and crowlers. The requirements were important, not just for health reasons, but also for beer quality
"To make sure that there were quality controls put in place to make sure that the quality of beer would be there for the consumer," D'Alessandro said.
A dirty growler can alter the taste of the beer.
The Illinois Craft Brewers Guild said the changes will benefit the state's craft beer industry.
"We absolutely support having the widest variety of choice and options when it comes to Illinois craft beer," D'Alessandro said.
The new law took effect immediately after it was signed by the governor in late August.