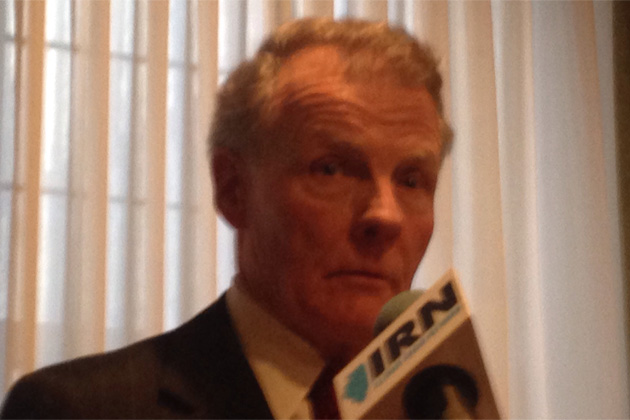 By Greg Bishop/Illinois Radio Network
SPRINGFIELD – There's a sense of optimism among the state's legislative leaders, but with new demands from Democrats and Friday's budget deadline approaching, it's unclear if all sides will agree on a spending plan before the next budget year begins.
Legislative leaders met Sunday, the fifth day of the governor's special session and only five days before the Friday budget deadline, to talk about a spending plan that relies on at least $5 billion in tax increases in exchange for various GOP-backed reforms.
House Speaker Michael Madigan, D-Chicago, offered up new demands from Democrats.
"No. 1, I expect the governor to sign Senate Bill 1, which changes the school aid formula. No. 2, I expect the governor to sign a bill that would provide for regulations of rates by workers' compensation insurance companies," Madigan said. "No. 3, I would expect the governor to sign a bill that would subject the current purchase of care negotiations to the procurement code."
Madigan also said the GOP's push to tie property tax relief and other reforms to tax increases is part of an "extreme right-wing agenda."
House Minority Leader Jim Durkin, R-Western Springs, said that doesn't help reduce Illinois' highest in the nation property taxes. Durkin said property tax relief must be part of the equation.
Durkin told reporters afterward Madigan's demands are a sign of movement and Republicans will continue to be flexible. However, a group of House Republicans say they can't support tax increases.
Regardless, Senate Minority Leader Christine Radogno, R-Lemont, said the meetings are a positive move.
"To the extent that there's communication and bipartisan communication is a good thing," she said.
Senate President John Cullerton, D-Chicago, said he hopes for more meetings.
"We're going to go back and do some work within our own caucuses and then we'll come back and have another meeting," Cullerton said.
Durkin demanded to meet separately with Madigan and said Democrats need to produce a budget plan, which they still have not yet done.
The next fiscal year begins July 1.