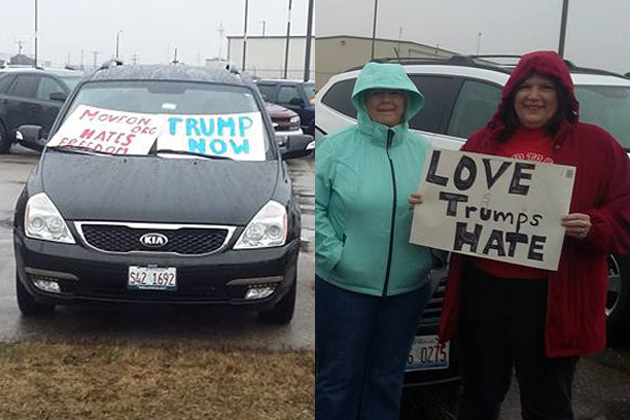 By Eric Stock
BLOOMINGTON – Illinois is rarely the center of the political universe, but it was for one day last spring as Donald Trump, still considered at the time to be a long shot to win the White House, brought his campaign to Bloomington where he spoke to thousands of supporters and a few detractors as we recap one of WJBC's Top Stories of 2016.
With his personal plane and Trump in giant letters as the back drop, the businessman and until-now political novice, Donald Trump spoke to thousands of supporters in a hastily arranged pep rally at an airport hangar in Bloomington. The event came just days after one of his rallies had to be canceled following clashes between supporters and protesters which Trump tried to explain.
"You hear about one (protester) in particular vicious, swinging, well guess what happened? Our guys started swinging back," trump said. "The next day, we were the bad ones."
Some of the estimated 3,000 on hand in Bloomington tried to disrupt.
"Get 'em outta here. Get 'em outta here," Trump repeated.
When order was restored, Trump delivered the hits his supporters came to hear.
"We are going to build a wall that's going to be a real wall and I won't even ask you, I will tell you, Mexico is going to pay for the wall, folks," Trump said to cheers.
Most of the protesters stood outside and held signs which said things like 'Love Trumps Hate.'
"He's just a bigot, awful and racist and I really hope he doesn't become our president," one protester said.
In the aftermath of the Trump visit came outrage as many used the cemetery next door as a parking lot in the rain, creating a muddy mess with rows of damaged headstones.
"There was trash everywhere where they had driven over numerous stones," President of the Bloomington Firefighters Union Local 49 John Meckley said.
Trump ended up shocking the world with his election win in November, along with Republicans strengthening their control in Congress.
The GOP did lose one seat in Illinois. First term U.S. Sen. Mark Kirk was ousted by Democrat U.S. Rep. Tammy Duckworth.
"We showed a campaign that respects the voters and is focused on practical solutions rather than slogans," Duckworth told supporters at an election night rally.
Bloomington doctor David Gill tried a fourth time to win election to Congress. After multiple court battles, the Democrat gave up his bid for a write-in campaign. Republican Rodney Davis easily on re-election.
Eric Stock can be reached at [email protected].