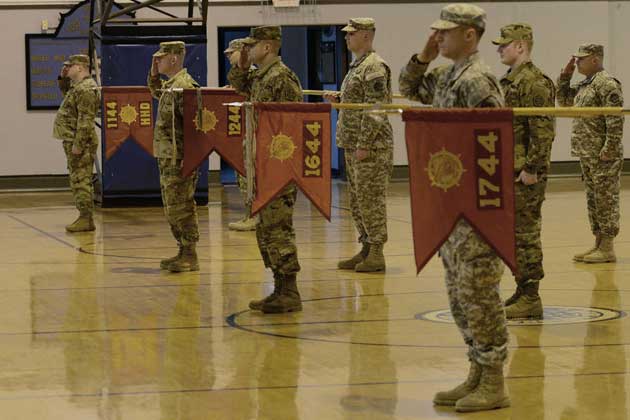 Hometown Military News for Dec. 16, 2016:
Specialized Springfield-based National Guard team returns from Afghanistan
SPRINGFIELD – Five Illinois Army National Guard soldiers who served in Afghanistan returned to Illinois Dec. 10 and were reunited with their families in time for the holidays.
The soldiers were part of the Bilateral Embedded Support Team (BEST) A-17, which mobilized in May. They deployed to Afghanistan with the Polish Land Forces in support of Operation Freedom's Sentinel.
This unique mission allowed these Illinois Army National Guard Soldiers to deploy side-by-side with their Polish counterparts as part of Task Force White Eagle in support of NATO's Resolute Support Mission in Afghanistan. The task force trained, advised and assisted the Afghan National Defense Security Forces throughout Afghanistan.
During the rotation, Task Force White Eagle conducted more than 400 direct advisory and operational missions with their Afghan counterparts. In addition to supporting the Polish Army, BEST A-17 also significantly enhanced the infrastructure and physical security, while improving the overall quality of life at their base in Bagram.
The BEST A-17 soldiers are from various parts of Illinois and were selected for the mission based on their experience, training and skills. Members of the team received both U.S. and Polish Military commendations and awards.
The soldiers returned to the airports nearest their home, to include Bloomington, Chicago and Springfield. As a result, no formal welcome home ceremony was held.
1144th Transportation Motor Transport Battalion cases its colors and celebrates its rich history
DELAVAN – The 1144th Transportation Motor Transport Battalion cased its colors during a ceremony on Friday, Dec. 9, in Delevan marking the unit's inactivation.
The battalion's lineage dates back to 1897, where it was organized as as a Cavalry squadron in Springfield. During its long history, the unit would serve as Cavalry, Armor, Transportation, Quartermaster and then back to Transportation. The unit saw action in the Mexican border campaign, World War I, and World War II as a Cavalry unit. It was converted to a tank battalion before serving in the Korean War. It served as a Transportation Battalion in Operation Iraqi Freedom.
During World War I its Soldiers fought in the St. Mihiel, Meuse-Argonne and Lorraine campaigns. In World War II, its Soldiers would fight in the Normandy, Northern France, Ardennes-Alsace, Central Europe and Rhineland campaigns. For this service it earned the French Croix de Guerre with Palm and streamers embroidered with Moselle, Caen-Falaise, and Fourragere. During Operation Iraqi Freedom it would earn a Meritorious Unit Commendation.
Brig. Gen. Michael Zerbonia, the Assistant Adjutant General – Army of the Illinois National Guard and Commander of the Illinois Army National Guard, presided over the ceremony. Lt. Col. Eric Smith, the Commander of the 1144th Transportation Motor Transport Battalion, cased his unit's colors with the battalion's command sergeant major, Command Sgt. Maj. Jeff Sima. The 108th Sustainment Brigade Commander, Col. Rodney Boyd, presented both Smith and Sima with Meritorious Service Medals for their leadership of the battalion.
Other distinguished military guests included Lt. Col. Jason Osberg, the 108th Sustainment Brigade deputy commander, Illinois Army National Guard Command Sgt. Maj. Mark Bowman, and 108th Sustainment Brigade Command Sgt. Maj. Lester Edwards.
Distinguished civilian guests included State Rep. Tim Butler of the 87th District of Illinois and Delavan Mayor Liz Skinner.
Click here to see the Hometown Military News archive.