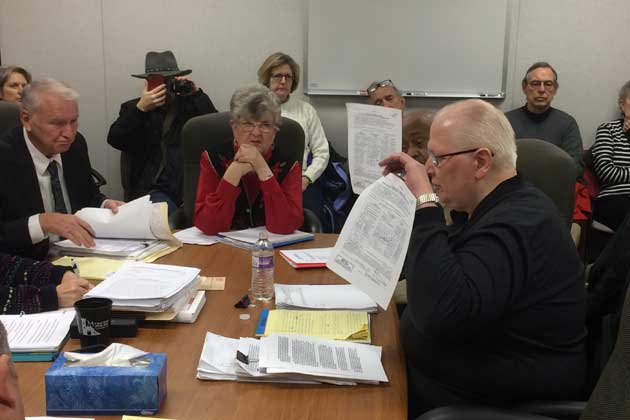 By Eric Stock
BLOOMINGTON – One man's ballot challenge to Bloomington mayor Tari Renner's nominating petitions has been allowed to proceed.
The Bloomington Election Commission will review more than 350 signatures that Kevin Gerrard said were invalid, a process that election officials said would take eight to 10 hours on Wednesday.
"I think it's really sad because of someone who wants to frankly disenfranchise hundreds of their follow citizens in terms of their right to vote," Renner said.
Gerrard claims the signatures are in question because some people seemed to have signed multiple names, there's no proof some are registered to vote and others aren't legible.
He also questioned signatures if the person printed their name on the petition and their voter records show their signature in cursive.
Renner's attorney Joe Dunn asked Gerrard if he was a handwriting expert, Gerrard said there is no such thing. He said the signature discrepancies can be seen with common sense.
Gerrard refused to comment after the two-hour hearing.
Renner said he is confident the nearly 800 signatures he gathered will be enough. He needs 489 valid signatures to be certified to run for re-election during the spring municipal elections.
"When you pass petitions at a parade, there's sometimes people who have not changed their voter registration or their registration lapsed," Renner said. "That's why you get extras."
Dunn presented eight witnesses and submitted legal documents of 26 others whose signatures were questioned. Each indicated their intent to sign the petition.
Election officials will review the signatures by comparing them with their voter registration records. Renner and Gerrard are both allowed to have two other witnesses present during the review.
A ruling is expected at 9 a.m. Friday. Renner faces a similar objection to his petitions on Thursday.
Eric Stock can be reached at [email protected].