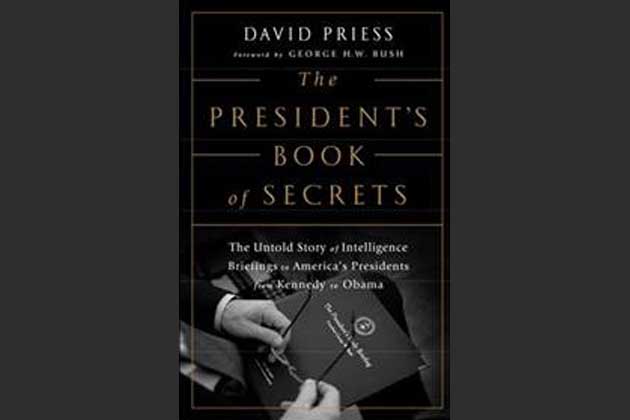 By Eric Stock
WASHINGTON – A Normal Community and Illinois Wesleyan alum who worked as an intelligence officer for Presidents Bill Clinton and George W. Bush has published a book about what was one of his primary tasks – producing the president's daily brief, a summary of what the intelligence community considers the most important information the president needs to know daily.
David Priess, author of 'The President's Book of Secrets,' told WJBC's Scott Laughlin he interviewed every living president about the briefings and he detected a common theme.
PODCAST: Listen to Scott's interview with Priess on WJBC.
"They all seem to appreciate the support they got, but recognize the constraints that came with it, because they know that not everything in the world can be known, so they were frustrated with what's not in the president's daily brief," Priess said.
Priess noted the briefings date back to President Kennedy because he told his advisors that he wanted more concise information from the intelligence community following the failed Bay of Pigs invasion.
Priess details how his job changed after the 9-11 attacks. The president's daily brief in August of 2001 infamously stated 'Bin Laden determined to strike in the U.S.'
"Some of the changes after 9-11 to the president's daily brief were amazing," Priess said. "I lived through those. I saw the increased attention to intelligence, the increased attention to how the pieces were put together to go in."
He noted intelligence agencies were much more willing to share the info with each other after the 9-11 attacks.
Priess also sought to dispel some myths about our presidents. He said Ronald Reagan was far more engaged than some might think.
"Ronald Reagan, by conventional wisdom, was not much of a reader, certainly not a reader of serious top-secret intelligence documents," Priess said, noting he would mark up his copies and note typos.
"Those are not thing a casual reader does," Priess remarked.
Priess added George H.W. Bush, a former CIA director, used the daily briefings to build a case for the Gulf War, but also had light-hearted exchanges with those who were briefing him. Priess said he's not sure if President Nixon ever read the briefings.
He said he's disappointed that none of the presidential candidates have been asked how they plan to study and use the intelligence they receive.
Eric Stock can be reached at eric.stock@cumulus.com.