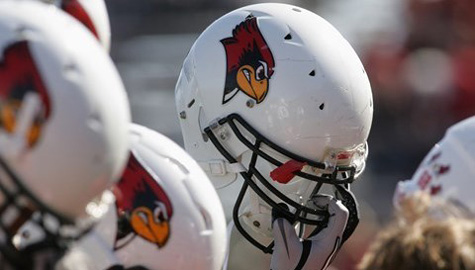 By Austin Duncan
NORMAL- The No. 4 Illinois State Redbirds football team remains unbeaten at renovated Hancock Stadium as they took down No. 6 Northern Iowa 21-13 in the opening of the Missouri Valley Football Conference season.
ISU scored all of its 21 points in the first half of play.
The Redbirds were paced by senior All-American running back, Marshaun Coprich who collected 169 yards and two scores.
Senior quarterback Tre Roberson saw limited action as he was held back by a hand injury. Redshirt freshman Jake Kolbe played a majority of the snaps behind center, collecting 80 yards on 11 for 16 passing. Roberson lined up as a wide receiver on several plays as well as took a few snaps at quarterback, and rushing for 21 yards. Roberson did not attempt a pass.
Junior Jamaal Towns collected the Redbirds only other score on a 10 yard touchdown run.
Illinois State Head coach Brock Spack said after the game the Roberson injury is week to week. Spack added Roberson's status will be dependent on how much pain he can handle.
Northern Iowa's Aaron Bailey, a transfer quarterback from the University of Illinois, threw for 108 yards and connected with receiver Michael Malloy on a 45 yard touchdown pass.
The Redbirds improve to 3-1 on the season, with a 1-0 mark in the MVFC. While the Panthers fall to 2-2 and 0-1 in the conference.
ISU returns to action October 10 when they travel to MVFC rival Youngstown State. Kickoff is slated for 6:00 p.m. Redbird Preview kicks off at 5:00 p.m.
Find post game comments from Brock Spack, Marshaun Coprich, Brannon Berry, and Alejandro Rivera here.