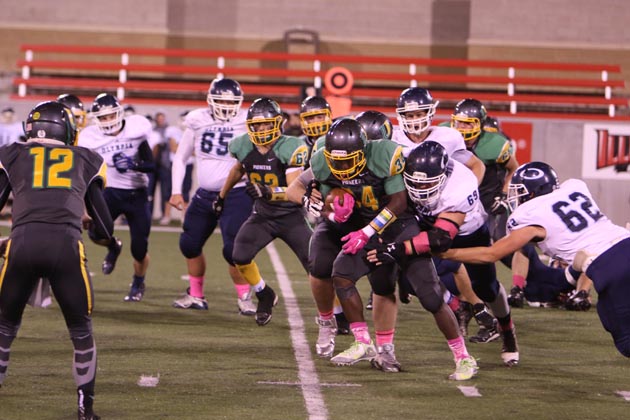 By Greg Halbleib
High school football teams slogged through rainy conditions on Friday night to complete the first third of the high school football season.
Decatur MacArthur 34, U-High 7
The visitors rushed for more than 300 yards in the win with two touchdowns each for quarterback Deylon Jackson and running back Derrick Taylor. U-High coach John Johnson said the Generals' physical line made the difference.
"You saw our quarterback. He had maybe a second and a half to two seconds to throw the ball and then he has to pull it down and run," Johnson said. "It's discouraging because the kids are trying but we just don't have the horses."
Jackson scored on runs of 25 and 6 yards as part of his team-leading 183 yards on the ground, while running back Jeffrey Wells chipped in another 90 yards on 18 carries.
U-High (0-3) was held to 22 yards rushing, but quarterback Dawson Brooks completed 12-of-24 passes for 100 yards and the Pioneers' only score, a 25-yard completion to Parker Mathieson.
Normal West 42, Danville 20
West quarterback Carson Camp and received Armani Forrest connected for touchdowns of 45, 48 and 49 yards as the Wildcats never trailed in the Big Twelve Conference victory at Danville. Camp added a 48-yard touchdown run while completing 16 of his 29 passes for 299 yards.
"We came in with a couple of things we wanted to do running the ball, and kind of adapted when we saw it was going to clear up," said West coach Nathan Fincham about some planned offensive changes anticipating rainy weather. "We took advantage of throwing the ball because obviously Carson is a very good quarterback and we have some pretty good wide receivers."
Davion McQuirter recorded 165 yards on 29 carries for West (2-1).
St. Joseph-Ogden 43, Central Catholic 21
SJO jumped out to an early lead, but the Saints (0-3) scored a pair of late touchdowns. Saints quarterback Connor Boerm was 7-of-20 through the air with 184 yards, connecting twice for touchdowns to Braden Glawicki and once to Liam Brady.
"We've been working on this system a little bit throughout the last couple of days," Saints coach Joe Walters said of the fourth quarter surge. "I think the kids are kind of made for this system. It's new to them still so they're getting there, and there's moments when they're really good at it, and there's moments where you go, oh man, if they only had a few more weeks under their belt."
Bloomington 50, Peoria Manual 0
The Purple Raiders (3-0) built a lead quickly in the one-sided affair in the first football game on the new artificial turf at Fred Carlton Field. Griffin Moore completed all five of his passes for 120 yards and three touchdowns. The Raiders forced four turnovers and kept Manual on their own half of the field with only one exception.
"It's always nice when you can come out and put some points on the board early," said Bloomington coach Scott Godfrey. "I thought our offense executed and we were able to get the run game going, which was good."
Normal Community 49, Urbana 6
The Ironmen (3-0) were able to get reserves into the contest in the second half as the hosts controlled the contest, leading 21-0 after one quarter and 42-6 at halftime. Quarterback Daylen Boddie rushed 11 times for 99 yards and three touchdowns while Jake Hileman carried 18 times for 107 yards and a touchdown for Normal Community.
"I was happy with how we handled the weather conditions and the adversity it presented," said Ironmen coach Jason Drengwitz. "I was impressed with how we took care of the ball offensively and didn't put the ball on the ground in wet conditions, and the defense got some takeaways and scores early to give us that cushion."
Week 3 high school football scores:
Big Twelve
Normal West 42, Danville 20
Bloomington 50, Peoria Manual 0
Normal Community 49, Urbana 6
Peoria Notre Dame 48, Champaign Central 20
Champaign Centennial 31, Peoria Richwoods 10
Rock Island 27, Peoria 22
Illini Prairie
St. Joseph-Ogden 43, Central Catholic 21
Prairie Central 34, Tolono Unity 26
Monticello 35, St. Thomas More 6 (Cully Welter becomes winningest Monticello football coach)
Pontiac 40, IVC 7
Rantoul 36, Olympia 28 (OT)
Central State Eight
Decatur MacArthur 34, U-High 7
Chatham Glenwood 27, Springfield 6
Rochester 48, Jacksonville 0
Sacred Heart-Griffin 50, Lanphier 6
Springfield Southeast at Decatur Eisenhower (Sat. 1 p.m. Millikin University)
Apollo
Mattoon 47, Lincoln 13
Central Illinois
Clinton 23, Shelbyville 6
Sangamon Valley
Seneca 22, Dwight 15
Non-Conference
Ridgeview-Lexington 20, El Paso-Gridley 16
Eureka 52, Flanagan-Cornell-Woodland 0
Macomb 34, Blue Ridge 6
Fisher 21, Tri-Valley 14
Gibson City-Melvin-Sibley 57, Heyworth 0
Deer Creek-Mackinaw 22, LeRoy 8
Tremont 16, Fieldcrest 13
Greg Halbleib can be reached at greg@wjbc.com.