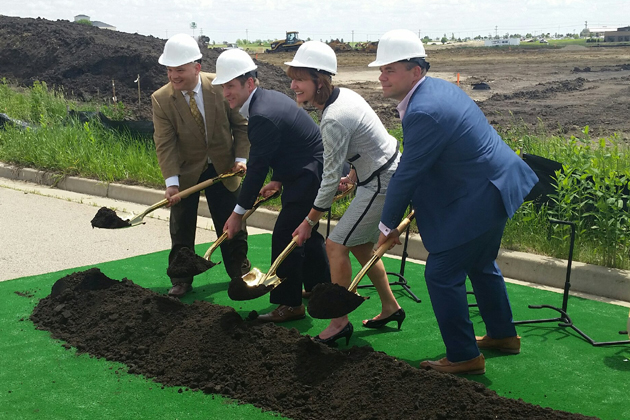 By Adam Studzinski
BLOOMINGTON – Advocate BroMenn Medical Center officially broke ground Monday on a new Center for Integrated Wellness.
The $35 million, 105,000 square foot facility is being constructed at the corner of Trinity Lane and Cornelius Drive on Bloomington's east side. It represents a partnership between the hospital, McLean County Orthopedics, Method Sports Performance, and Sequoia Wellness.
Advocate President Colleen Kannaday said the facility is a "wonderful opportunity" to treat the community in a different way.
"I remember some initial conversations just about the topic of a facility like this and a lot of skepticism in terms of if the market was ready for it, if our community was ready for it, and our ability just to be able to come together and pull it off," she said.
Tony Manna is chairman of Signet Enterprises, which helped develop the facility. He said the Center for Integrated Wellness is much more than just a medical facility.
"It represents a new concept for Bloomington-Normal," said Manna. "A holistic approach to health and wellness that will bring transformational change to the community."
The facility will contain a medically based fitness center, a sports performance institute, an orthopedic center, an imaging center, physician offices, and a community education area.
"We believe in partnership. It's not about doing it ourselves or saying it's got to be about Advocate," said Kannaday. "It's really about serving the needs of our community."
The center is scheduled for completion in Fall 2016.
Adam Studzinski can be reached at adam.studzinski@cumulus.com.