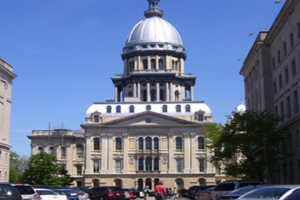 By Illinois Radio Network
SPRINGFIELD – Whether 2019 was a good year for Illinois taxpayers depends on who you ask.
Lawmakers passed a series of major laws, including cannabis legalization, expanded gambling and a $45 billion multi-year infrastructure plan. That came with increased taxes and fees, which included doubling the state's gas tax.
State Rep. Carol Ammons, D-Urbana, said this year has been historic.
"A lot, a lot of things got done," Ammons said. "I don't know for sure how they're all going to roll out, but it is a work in progress. As you know in Springfield things come, we change things, we trailer them, we continue to try to work on good legislation for the people of Illinois."
State Sen. Robert Martwick, D-Chicago, said taxpayers should be pleased with the state budget, which he said was balanced.
"For the first time in a long time it was a bipartisan process and if you're looking for hope for Illinois, when both parties start cooperating on the operations of government I think that's a really good sign and there are better days ahead," Martwick said.
The budget enacted this summer was the largest spending plan in state history.
State Rep. Darren Bailey, R-Xenia, had a different take. He said taxpayers in his southern Illinois district are fired up.
"They're mad," Bailey said. "They're getting energized. They're getting acclimated to Springfield culture. They're reaching out to other representatives, senators and entities across the state. So I believe taxpayers across Illinois are much more educated now than they were a year ago and I think we're going to see the results of that soon."
Bailey said lawmakers left the capitol this year without bringing about significant reform to lower the taxpayer cost of public employee pensions.
"The situation continues to get ignored," Bailey said. "We are headed toward a dire situation, the city of Chicago and the state of Illinois."
Taxpayers are on the hook for more than $134 billion in unfunded pension liabilities just for the state's pension systems.
Lawmakers left for the year after the fall session. They're back in late January for the second year of the 101st General Assembly.
Illinois Radio Network can be reached at News@WJBC.com.