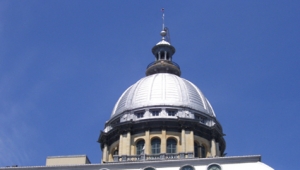 By Illinois Radio Network
SPRINGFIELD – Some of the temporary displays set up in the rotunda of the Illinois State Capitol in Springfield are getting more attention than others, including a statue from the Satanic Temple of Chicago.
Secretary of State Press Secretary Henry Haupt said the tall holiday tree in the rotunda is put up every year for the holiday season.
"That's owned by the state," Haupt said. "It actually predates Secretary [of State Jesse] White's time, so I'm not sure how old that tree is."
Other temporary displays are put up by groups that have requested space.
This year's holiday displays include a board from the Freedom From Religion Foundation celebrating the Winter Solstice that says: "Religion is but myth and superstition."
For the second year in a row, the Satanic Temple of Chicago put up the statue of an arm holding an apple wrapped by a serpent that says "Knowledge is the greatest gift."
A nativity scene went up this week. After the dedication of the nativity on Tuesday, Monsignor David Hoefler, vicar general for the Diocese of Springfield, said the nativity is important to bring the message of Christ.
"He doesn't come in as a competitor among others," Hoefler said. "He comes to the heart of who we are. And too often we get caught up with the competition of things and even competition of god, if you want to put it that way."
The Secretary of State's office said the displays are protected by the First Amendment.
"The freedom of speech issue, that's something we take very seriously," Haupt said. "The U.S. Constitution protects freedom of speech and it's a hallmark and a cherished principle of this country."
Gary Pierce, minister at Key of David Ministries in Springfield, said he understood the free speech requirements, but said he believes that having the Satanic Temple's statue near the nativity was concerning.
"I understand what they're saying, they don't want to discriminate," Pierce said. "But I don't think it should be in the same spot. Why do you want to give reverence to someone if you believe what I believe that is causing the destruction of this earth?"
Haupt said the Secretary of State's Office gets display requests all year for things such as fallen military service members and Boy Scout troops, but he said "it does seem that the holiday season is a time in which a number of displays have been coming out and for almost a decade they weren't really even covered [by the news]."
In previous years around the holidays, there have been requests for a Festivus pole, from the sitcom "Seinfeld," but Haupt said that had not been requested this year.
Illinois Radio Network can be reached at News@WJBC.com.