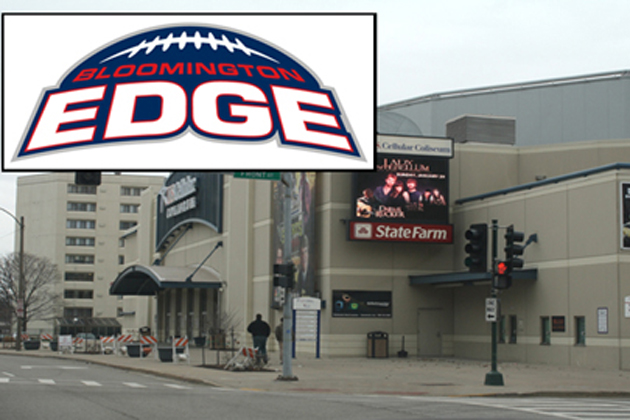 By WJBC Staff
BLOOMINGTON – Former Edge linebacker Ameer Ismail has been named as the team's new head coach, the team announced earlier today.
"Coach Ismail is one of the brightest coaching talents in the indoor football ranks. He was highly coveted by several teams, but his past experience with the Edge was a key factor in this decision. To land someone of Ameer's caliber to our organization is outstanding," Edge owner and CEO Omar Khokhar said. "We have complete faith in Ameer to bring a championship to Bloomington."
The upcoming season will be Ismail's first season as a head coach, although he's no stranger to the game of indoor football. Most recently serving as defensive coordinator of the Indoor Football League's Spokane Empire, Ismail's defense ranked 2nd in the league. In 2015, Ismail served as defensive coordinator of the IFL's Tri-Cities Fever, where his defense ranked 1st overall in the conference (213.6 yards/game). Ismail began his coaching career with the Cedar Rapids Titans in 2014, where his defense ranked 2nd overall in the league. Of note, his defenses are noted for their aggressive attacking nature focused on takeaways and defensive scoring.
"It's an honor to be named the new head coach of the Bloomington Edge. Thank you very much to the Khokhars for believing in me," Ismail reflected. "To have the opportunity to coach for a team I played for is unique and special. Bloomington is a great city with the best fans, community, and resources for players to succeed in their professional football careers."
Prior to coaching, Ismail played three seasons in the Indoor Football League, including one season for the Bloomington Edge (2012). While with the Edge, Ismail was named the IFL's Defensive Player of the Year while also earning First Team All-League honors. At the end of his three-year indoor football career, Ismail had logged 357 tackles, 13.5 sacks, six interceptions, and five forced fumbles.
"Playing in Bloomington provided me with the platform and opportunity to advance my playing career into opportunities with teams in the NFL and CFL. I plan to continue and grow that network and provide opportunities for my players while they live their dream in playing professional football," said Ismail. "I will bring high-character, hard-working players to Bloomington. I'm going to rejuvenate, revitalize, and regenerate the team, fans, and city with an elite and energetic coach and team that is revolved around doing things the right way, winning, and having fun doing it.
Ismail played collegialty at Western Michigan University, where he was a DI All-American who led the nation in sacks and tackles for loss. He earned earned his Bachelor's degree in Exercise Science & Physiology, as well as a Master's Degree in Sports Management & Administration. Immediately following college, Ismail participated in training camps for the NFL's Kansas City Chiefs and Jacksonville Jaguars, during which knee injuries curtailed his progression.
The 2017 Bloomington Edge home schedule will be released later this month. Edge United season ticket memberships are now on sale starting at just $60 per seat. Group seats and luxury boxes are also available.