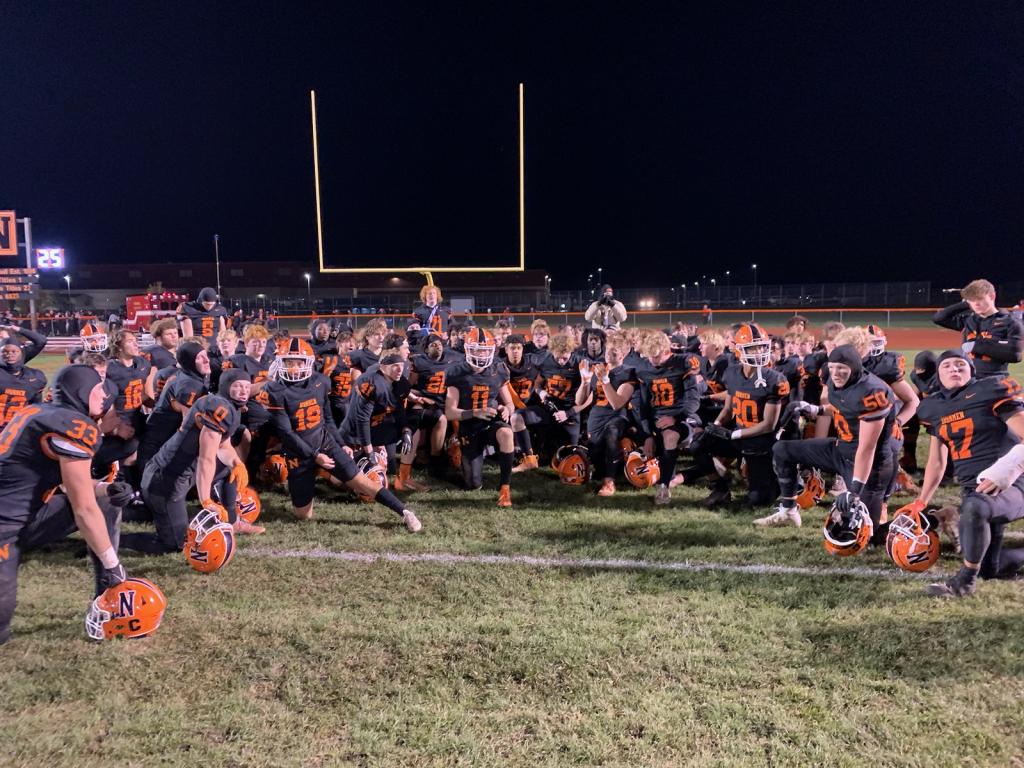 By Jake Fogal
NORMAL – A back-and-forth contest at Dick Tharp Field Saturday night led to hot heads and heighted tempers as the Normal Community Ironmen eked out a win over Bradley Bourbonnais in overtime, 31-30.
Both teams were knotted at 24 apiece as the fourth quarter culminated, sending the second round matchup to overtime. The Boilmakers elected to start the period on defense, but Bradley-Bourbonnais couldn't stop the Ironmen's Tommy Davis from finding the end zone on a short run.
Boilmaker's running back Kenvontae Sutton scampered into the end zone on the second drive of the extra period, putting the away team an extra-point away from tying the game. Bradley-Bourbonnais decided on a more aggressive approach, putting it's player's out for a two point conversion, leading to a dropped pass and an Ironmen celebration.
"We made one more play than they did at the end of the game to win, and we get to play another week," Ironmen Head Coach Jason Drengwitz said.
Despite an overtime victory, tensions between both teams boiled over postgame in the annual hand shake line.
To try and tame behaviors, the two teams were separated after some back and fourth talking between players and coaches.
Coaches were able to to split their team's from the scuffle, but some jawing spilled over into the parking lot following the game.
"I don't know what happened at the end [of the game]," said Coach Drengwitz.
"I'm really excited that we won, but I think we have to do some things to keep our emotions in check better. We have to handle adversity better."
The Ironmen were led by quarterback Kyle Beaty, as the junior totaled two passing touchdowns and one score on the ground. Tight end Dexter Niekamp caught one on the first drive of the game on a fake punt attempt for 44 yards. Mar'Quan Gary snagged the other pass for a downfield completion in the second quarter.
Boilermakers quarterback Ethan Kohl totaled three touchdown passes in the win, all to senior wide out Luke Allen.
The Ironmen move onto the Class 7A Quarterfinals, with a meeting against Glenbard East on tap.
Other scores from Round 2:
(1A) #4 Althoff Catholic 56-20 #5 LeRoy
(2A) #3 Central Catholic 27-12 #6 Farmington
(2A) #5 Wilmington 42-14 #4 Tri-Valley
(3A) #7 Olympia 40-20 #2 Greenville
(3A) #6 Montini Catholic 44-20 #14 Prairie Central
(6A) #4 East St. Louis 54-7 #5 Normal West
Central Catholic will leave the friendly confines of Bill Hundman Memorial Field for a short road trip to #2 Maroa-Forsyth. Olympia advances to it's second straight quarterfinals, getting a home game next week hosting #3 Roxana.
The High School Football Extravaganza is sponsored by CEFCU.
Jake Fogal can be reached at [email protected].