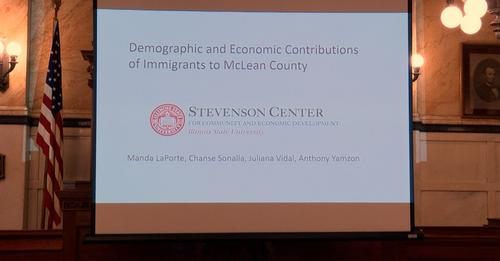 By WMBD-TV
BLOOMINGTON – A new study conducted by the Stevenson Center at Illinois State University shows the vast economic impact of immigrants on McLean County.
One of the main takeaways from Stevenson Center Director Frank Beck was that the data shows immigrants are more likely to be in the workforce.
"Compared to non-immigrants, immigrants are more likely to be in the labor force, they're more likely to be workers and contributing to the economy than the non-immigrant population," Beck said.
The study used data from 2019. Some other key information from the study included that immigrants earned $494 million locally and paid $32.1 million in local and state taxes and $42.9 million in federal taxes.
Surinder Sethi and his wife Narinder have lived in Bloomington for 46 years. He said the community is understanding of immigrants.
"It's not that they don't like you, but it's an understanding, once you talk and understand each other, that builds a relationship," Sethi said.
Charlotte Alvarez, Executive Director for the Immigration Project, talked about the wide array of ethnic groups in McLean County. There are at least 38 languages spoken in the county, with plenty of markets and other places of interest. She says immigrants offer a lot to the community.
"Most people are rooted in immigration or rooted in indigenous heritage, so those immigrant roots become part of the fabric over time," she said.
BN Welcoming shared the study at the McLean County Museum of History on Tuesday. The collaboration features groups such as the Immigration Project, District 87 schools and Illinois State University staff.