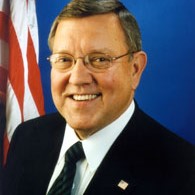 By Dave Dahl
SPRINGFIELD – A longtime Downstate lawmaker known for his fiery floor speeches and piercing wit has passed away. Former State Rep. Bill Black of Danville was 81.
Black, a Republican who also served on the Danville city council, Vermilion County board, and Danville Area Community College board, passed away Saturday.
"He had an elephant-like memory. I mean, he remembered everything," remembers a former colleague, now State Sen. Chapin Rose (R-Mahomet). "He would bring these letters out in caucus and say, 'Listen, this is why we don't need to do this, because we tried this once, and here's what happened,' and he would bring out this whole file that he's been keeping on it for years, just because whenever someone wanted to try something stupid again, like whatever it was, he'd be ready."
Among Black's memorable antics in the House: throwing a box of tissues at the speaker; calling out for his dog, whom he missed during long sessions; and quitting. And un-quitting.
Dave Dahl can be reached at [email protected]