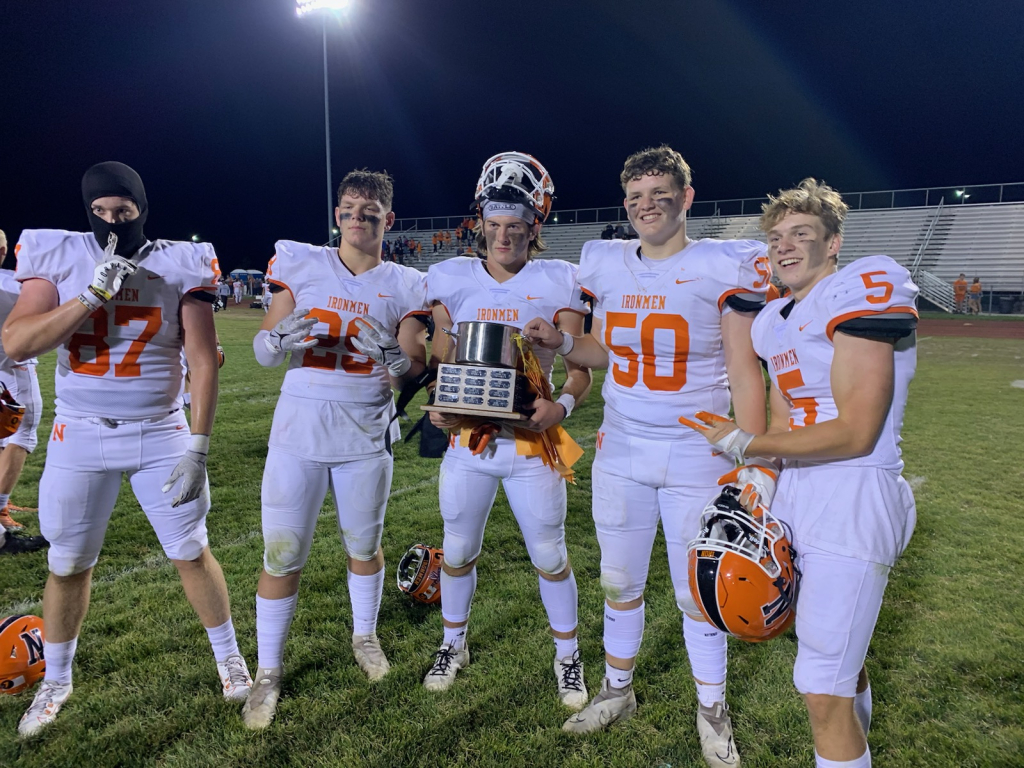 By Jake Fogal
NORMAL – The expectations have been met through three weeks of play as the Normal Community Ironmen have charged through three opponents with relative ease this season. Week 3 featured Community picking up not only a regular season win, but also a trophy that signifies a victory over a cross-town rival. The Ironmen captured the 29th edition of the Chili Bowl over Normal West, 43-0.
"Didn't expect this. West has got lot of great players and a really good coaching staff. It's a credit to our coaching staff, prepping with a good game plan. Our players put together a great week of practice. I'm proud of our players and thought we played with great energy," Normal Community Head Coach Jason Drengwitz said.
Three Ironmen found the end zone in the win, as Tommy Davis rushed for two touchdowns to begin the scoring festivities. MarQuan Gary caught three passes from quarterback Kyle Beaty, one of which went for 50 yards and a score. Gary added a rushing touchdown, as did junior Calen Taylor, who totaled 17 yards on the ground and two touchdowns. Beaty totaled 268 yards through the air, going 14-20.
The Ironmen defense created havoc for the Wildcats offense, as Bubby Dow notched a sack for a safety in the second quarter.
The Wildcats struggled to get momentum going, as quarterback Johnny Freymann, who last week had 4 touchdowns, could only muster 79 passing yards on six completions. Josiah Edmonson led the Wildcats in rushing attempts Friday night, running for 28 yards.
"This is one that we definitely need to spend a little time with and take a look at and learn from. Normal's [Community] a great football team and they were ready for the moment and we obviously weren't. That's something we need to learn from and be better when the next good opponent comes through," Wildcat's Head Coach Nathan Fincham said.
Normal Community had one score in the first quarter, and then converted on 36 points in the second. Neither team scored in the second half, leaving the Ironmen to a 43-0 final.
"We will enjoy this one tonight, and then we have to get back to work for a really talented and explosive Peoria High team," Drengwitz added.
The Ironmen will be back at Dick Tharp Field in Week 4, looking to continue it's hot start as Normal Community lines up across from Peoria High. The Lions defeated Urbana in Week 3, 98-0. Catch the game on AM 1230 FM 102.1 next Friday as the WJBC High School Football Extravaganza sponsored by CEFCU, gets underway at 6:00 p.m.
Other final scores throughout Central Illinois in Week 2:
(3-0) Central Catholic 44-7 Paxton-Buckley-Loda (2-1)
(2-1) U-High 42-26 Springfield Southeast (0-3)
(2-1) Bloomington 34-26 Peoria Notre Dame (2-1)
(3-0) LeRoy 34-14 Dee-Mack (2-1)
(1-2) Pontiac 40-14 Rantoul (0-3)
(2-1) GCMS 21-13 El-Paso Gridley (2-1)
(2-1) Eureka 47-28 Clinton (1-2)
(2-1) Heyworth 28-8 Tremont (0-3)
(3-0) St. Joesph-Ogden 26-19 Prairie Central (1-2)
(3-0) Athens 14-6 Olympia (1-2)
(1-2) Springfield 29-12 Lincoln (2-1)
(3-0) Tri-Valley 57-0 Fisher (0-2)
(2-1) Fieldcrest 36-14 Ridgeview/Lexington (0-3)
The High School Football Extravaganza is sponsored by CEFCU. Big thanks to our chili sponsor this season as well, Central Parke Bar & Grill.
Jake Fogal can be reached at [email protected].