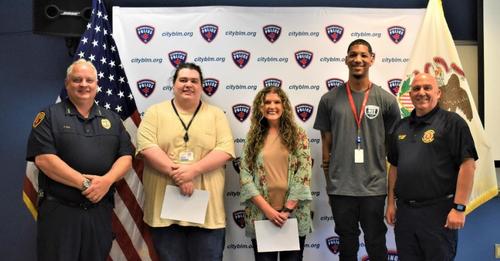 By WMBD-TV
BLOOMINGTON – Three police department dispatchers were recognized in Bloomington.
According to a Bloomington police Facebook post, Sarah Wolf, Nicholas Newcomb and Jayce Brame each received "Dispatcher Cardiac Resuscitation Awards."
They received the awards in connection to separate incidents involving victims who were 5 and 87 years old.
"These awards are a testament to the profound impact our public safety dispatchers have in our community," BPD's ECC Manager Darren Wolf said. "They work behind the scenes and stand ready to answer your calls for help. Our team is dedicated to providing service at a high-level and doing their part to achieve positive outcomes in the community. On these calls, Sarah, Nick, and Jayce demonstrated that dedication and made a difference."
The awards were presented by EMS Systems Manager Kris Newcomb on behalf of EMS Systems Medical Directors Dr. Julie Lewis, MD and Dr. Steve Delis, MD.